<scriptid="mct-script"src="https://app.mycountrytalks.org/embed.js"data-iframe-src="https://app.mycountrytalks.org/talks/9b3c8cc1-8a05-4fa0-bcc2-edef9d8b28d1/join?starting_question=1153"async></script>
Drama as Kenyan electoral official ejected from New York bound flight and barred from flying to US
Dr, Akombe was en route to New York when she was ordered out of her plane reportedly on instructions of State security and then held at the Jomo Kenyatta International Airport (JKIA).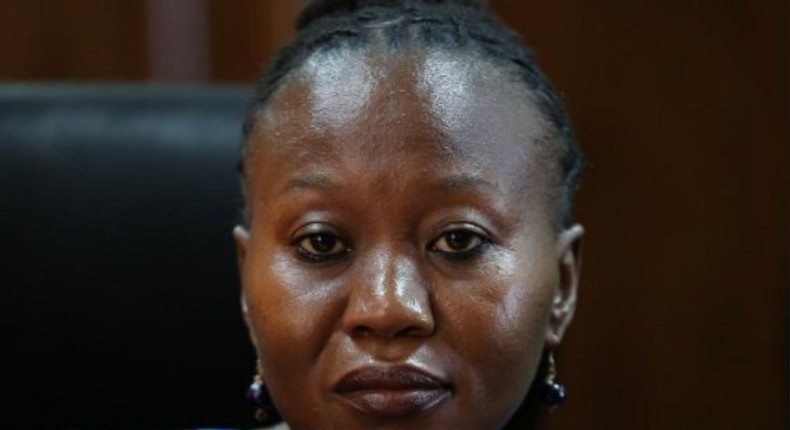 A  Kenyan electoral commissioner has been barred from traveling to the United States days after Kenyas Presidential elections were declared.
Dr. Roselyne Kwamboka Akombe, a commissioner with the Independent Electoral and Boundaries Commission (IEBC) official was on Tuesday night ejected from a US board flight and her luggage offloaded.
Media Reports indicate that the commissioner is still being held at the airport.
The electoral body confirmed that Dr. Akombe had been blocked from travelling but downplayed the incident, terming it a "delay".
"Dr. Akombe who is traveling to US for an official meeting. Was delayed at JKIA by officials who have since apologized. She returns on Sunday," the commission said on its official Twitter account.
According to Daily Nation sources, however, some State operatives feared that Dr. Akombe, who reportedly holds both Kenyan and US passports was fleeing the country.
"She was prevented from boarding. She was going to New York. Still at the airport," a source at JKIA told the daily.
The same reports said that it took the intervention of diplomats for her to be released from police custody and transferred to government pavilion at JKIA.
International and African Union election observers all both gave Kenya's general election a clean bill of health and it is therefore still unclear why then Kenya feared Dr. Akombe was fleeing or would disclose upon her landing on US soil.
President Uhuru Kenyatta was declared the winner in the hotly contested presidential elections after he garnered 8,203,290 (54.27%) votes against his closest political rival NASA Presidential candidate, Raila Odinga's 6,762,224 (44.74%) votes.
Raila Odinga is expected to make a major announcement today on whether they will go to court to challenge the results as requested by the government and international community or call for mass protests.
JOIN OUR PULSE COMMUNITY!
Recommended articles
Africa's richest woman Isabel Dos Santos finds herself deep in another financial scandal
Net worths of Africa's richest people in the top 500
Top 10 richest mineral-producing countries in Africa
Akufo-Addo to address nation tonight on Covid-19, IMF deal
Polytechnic student commits suicide after losing his and roommate's fees to betting
E/R: Vehicle plunges into river, killing three
Top 10 African cities where it is most expensive to get food
8 persons arrested by Police at NDC primaries for various offenses
List of incumbent MPs who were booted out of candidacy