An African sports tale of romance,betrayal and tragedy (Part II)
The untold story of Chris Briandt, an out of the world Ghanaian football talent who walked away from the game at the peak of his powers after he lost his wife to a sports minister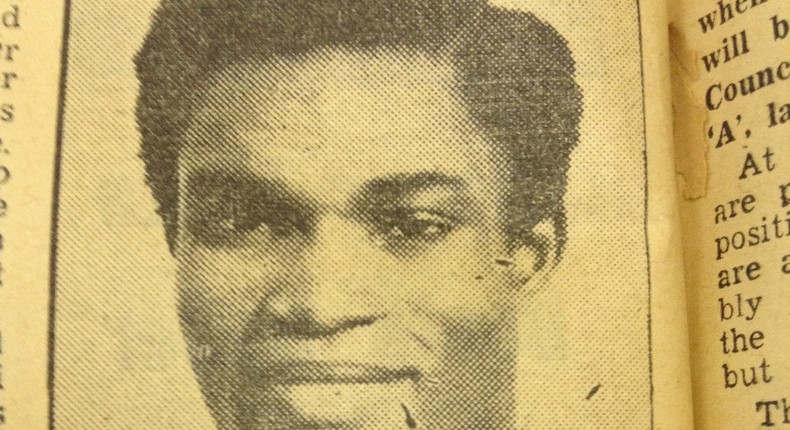 This is the of a two-part series
In Germany, a few months into his stay, Briandt received a letter from one of his friends back Accra, and its contents confirmed some rumours that he'd been hearing in bits.
So it was true. He had been betrayed. That ominous inkling he'd felt before leaving had something to it after all.
"We would see him weeping uncontrollably in his bed in the night," Tetteh, who shared the same dorm room with Briandt, remembers. "He didn't look all that healthy," Adjaye, also in the same room, adds.
For days, Briandt kept to himself, wept when no one looked. He complained about feeling nervous and unwell. He said he couldn't sleep. Steadily, he slipped into depression until an inevitable breakdown happened, prompting an admission to the Cologne hospital on June 6.
It was all hard to take, and it made him realize that leaving had been a mistake. Already, his initial reluctance to go had been a burden enough, and now this piece of news had just pushed him over the edge. "It changed him," Tetteh recalls. "He got mad and became nervous. He could barely concentrate on his course from then on."
His concentration was so disturbed that he sent a message back to GAFA asking to discontinue his course because he was no longer interested in becoming a coach. GAFA in turn put in a request to shut down his course and repatriate him.
But, after receiving medical treatment for close to a month, Briandt changed his mind. Upon being discharged, he admitted to "definitely feeling much better" and subsequently got back in touch with GAFA to apologize for the "unpleasantness caused by my former decision".
GAFA in turn made a U-turn on their plans of calling him back. "In the interest of Ghana soccer Chris Briandt should no longer be repatriated," said its chairman Ohene Djan. "He should therefore remain in Germany."
Given his precarious situation, Briandt asked to be given another year of studying to make up for the time lost, because, in his own words, "I feel I could not quite master the course in the time (one year)."
Although this request wasn't successful, Briandt managed to power through to finish his course in the required time.
He touched back down in Accra on a warm Friday in July 1959, bustling with a lot of relief and belief following many months of drain and pain.
At the Accra Airport, Wilhelmina Briandt welcomed her husband in a manner so emotionally profound that it made the front page of the Daily Graphic. She kissed him. She had missed him. A lot had happened in the 16 months he'd been a way.
Briandt and Djan shared laughter while conversing during a walk to a waiting vehicle outside the airport. It looked like a happy scene of reunion, but deep down, Briandt knew laughter wasn't the only thing he was sharing with his boss, and it must have taken a lot of strength and pretence to maintain a cordial composure.
Briandt's return enjoyed anticipation and hype, and it was understandable. It was an exciting time: Ghana's first professionally certified black coach was in town. Also at the airport were K. Protz, Chancellor of the German Embassy in Accra, and Andreas Sjoberg, Ghana's new national coach who Djan had hired from Sweden to succeed Ainsley. Adjaye was scheduled to return in a fortnight due to an illness.
At an arrival press conference, Briandt was upbeat. The future promised possibilities, bright and endless. "I have learnt enough about coaching," he said. "And with the co-operation of the national coach, I hope the standard of Ghana football will improve greatly."
Djan announced plans deploy Briandt and his colleague Adjaye to take up posts in Ghana's Volta and the Northern Regions respectively. These were areas that had a level of football development which considerably trailed that of the main four municipalities of Cape Coast (where football in Ghana was born in 1903), Accra, Kumasi and Sekondi. Djan wanted the duo to develop interest and talents in order to raise their standards to become at par with the big municipalities. He wanted Ghana to be a full-blooded football hub.
When Adjaye made his own return to Ghana two weeks later, he came with a present: the contingent of Fortuna Dusseldorf, one of West Germany's biggest clubs.
Djan had managed to invite them to tour the country, in an effort he hoped would be an educational experience for Ghana's footballers. Fortuna were to play a series of friendlies with some of Ghana's leading teams: Hearts of Oak in Accra, Hasaacas in Sekondi, Asante Kotoko in Kumasi and a Southern Ghana Representative side in Accra.
Briandt's first task as coach, after a two-week holiday spent reacclimatizing and catching up, was to coach the Hasaacas team to meet Fortuna. Then he was to assist Sjoberg in coaching the Southern Ghana team, which was essentially a quasi-national team, due to the fact that most of the nation's top players were based in the South.
Under Briandt's technical tutelage, Hasaacas forced Fortuna to a 3-3 draw in Sekondi. The rest of the teams struggled: Hearts were beaten 3-2. Kotoko lost 4-3. Southern Ghana got hammered 6-1.
The fact that Hasaacas recorded the best Ghanaian result from the Fortuna series made one thing clear: Briandt had talent.
And the thought that he had just started made people excited.
Surely, there was more in store.
After Fortuna's tour, Djan formed the 'Black Star Group', a new national team to replace the erstwhile Ghana XI, and appointed Briandt as assistant coach. Djan hoped the experience of understudying head coach Andreas Sjoberg would prepare Briandt for the top job, because he had plans of ultimately promoting him.
But there was a problem: Briandt was apparently no longer interested in the main job.
Heck, he was not even interested in coaching itself.
So disinterested, in fact, that when the Black Stars started playing matches, their assistant coach was nowhere to be seen.
Initially, people downplayed his disappearance. Maybe he was sick. Maybe something important had come up. And so they ignored it. Let it slide.
But soon, its prolonged nature forced eye brows up. Something fishy was going on.
And so the questions began to brew. Where was Chris Briandt? Why had he unceremoniously left his post? What was going on?
The high level of public concern was justified because the state had invested a lot to get him professionally trained. He essentially owed Ghana service, and this made people feel entitled to know why he wasn't doing that. "The general public would like to know what contributions Christian Briandt is making to Ghana soccer after his training in Germany," demanded Daily Graphic Sports writer Sam Boohene, who attempted to investigate the issue. "We have waited a long time for a statement from GAFA but no statement has been made."
The only trace Briandt left, the only clue the public had, was his car.
It was an official car bought for him as part of his entitlements as a national coach employed by the State through GAFA. The car was strangely parked at the residence of Ohene Djan at Nsawam, just outside of Accra, rather than in Ho, where Briandt was supposed to be based.
As per Djan's typist, who spoke with the probing Sam Boohene, Briandt had driven all the way from Ho to Djan's home in Nsawam to return the car, saying he did not "want" it and that he considered it "dangerous" to drive it.
Something wasn't right. In 1959, owning a car was a big, big deal in Ghana, and here was a man offered a free car returning it with a bizarre, if not unsatisfactory explanation.
Djan, of course, was supposed to have answers. But strangely, when asked, he was evasive in his response. Parabolic, even. "Briandt is of age and is purely responsible for his actions," he told Boohene. "I think he is the proper person to say whether he has quit soccer or not."
Djan went on to say that he and GAFA still recognized Briandt as coach. That they waited to hear from him. That they could not "force" him against his will.
On whether Briandt was still being paid, GAFA Treasurer Jellico Quaye remained tight-lipped, but Djan, when pushed to the wall, retorted: "How can he be paid when he is not working?"
That was the thing: Why was he not working?
The temperature of concern rose, and with it suspicion, sparking an avalanche of public enquiries.
In December 1959, a fan named S.B Agyemang from Kumasi wrote to the Daily Graphic under the title "WHERE IS CHRIS BRIANDT?"- words that were on the lips of many fans. "In the interest of the general public, may I ask the chairman of the Football Association to come out with an official statement on coach Briandt?"
"As matters stand now, those of us who are interested find it difficult to appeal to Briandt to resume coaching duties because we don't know why he is not at his station in Ho," wrote another fan, Kwasi Akufo from Pusiga, Northern Region, in a note to the Graphic in January 1960 titled: "WHAT IS THE LATEST ON BRIANDT?"
"Unlike his colleague Chris Briandt, who will not go to his station or say why he won't go, we hear (James) Adjaye is taking his job seriously in the North," wrote S.K Owusu Ansah, another fan writing to the Graphic, in February 1960. "By the way, how long will the Football Association and Chris Briandt turn a deaf ear to the repeated appeals by fans for an explanation of the dark cloud that surrounds coach Briandt?"
The Briandt saga grew into a mystery that was pregnant with many questions, in desperate need of a C-section – because Briandt and Djan, the two people who definitely knew what was going on, remained mute, stifling a normal birth of answers.
Days passed. Months too. Yet nothing was forthcoming: not Briandt, nor his reasons for abandoning his privilege as the heir apparent to Ghana's national coaching seat.
In March 1960, however, the National Council of GAFA released a statement confirming that they had released Briandt from his role as coach to go back to his former post as Manager at the Kingsway Stores. In a strange continuation of the general feel of concealment, GAFA gave no explanation for their decision.
The Daily Graphic didn't take this lightly. In a scathing editorial, the paper barked at GAFA. "We have the greatest admiration for the chairman and council of the Football Association," it said. "But on this Briandt issue we think that they have sadly underestimated the intelligence of the general public."
"Had somebody forgotten that Briandt was trained at public expense and that the public was interested in his official activities as coach? Is it not realized that information about public organizations is not private property?"
The paper questioned with intent – "Whose fault was it?", "Who shielded who" – but no answers came. "No one outside the council will ever know what really happened," it concluded.
Meanwhile, the public continued to grow frustrated by the lack of information. They were losing patience. "Briandt went to Germany with public funds to train as a football coach and not train for Kingsway stores," a fan complained in Graphic.
Soon, the disappointment gradually morphed to bitterness. They turned against Briandt, demonized him: fans who had once adored him now began to abhor him. They verbally abused him. They called him a traitor, called for his arrest.
But little did they know that Briandt had quit because he felt someone had betrayed him too.
To know what exactly happened, we'll need to rewind all the way back to Cologne, in that Dorm room, when Briandt received that letter. What was in it that shook him so much?
Briandt had found out about a rumour which, till this day, remains shrouded in secrecy due to its sensitive nature.
"One of his friends had written to tell him that Ohene Djan was chasing Wilhelmina," Tetteh reveals.
"Yes, it's true," Adjaye confirms. "We heard that Djan had gone after Briandt's wife."
"Many years have passed, yet it still remains a case that the few people who know don't like to talk about," Moro adds.
Moro knows better, because unlike Briandt and Adjaye, he was in Ghana when it all happened.
He explains: "The thing was, Ohene Djan – in an effort to console Briandt's young wife, owing to the fact that he had sent her husband away – became very close to her. He began taking her along everywhere he went just to make sure she wasn't bored or depressed."
Functions, stadiums, hotels, home – Djan and Wilhelmina seemed to go everywhere together. "They even travelled together during our 1958 Jalco Cup game away in Lagos," Moro reveals. "As you would imagine, this was never going to end well."
The problem was, as Moro opines, that it was difficult to argue in Djan's defence. It was hard to believe he'd done what he'd done inadvertently or innocuously. And the reason was simple: Wilhelmina was young and attractive and vulnerable, and Djan, like most other great men, had a harrowing Achilles heel – a weakness for women. Those who worked closely with him, including Moro, Adjaye and Tetteh, knew.
This complicated things, Moro explains. Per how it all looked, many witnesses were convinced that an affair had occurred. Adjaye and Tetteh, from their own observations and experiences, believed it too. "From the outside, it definitely looked like something was going on (between Djan and Wilhelmina)," Moro says. "Well, at least everyone thought so. Basically, it was like, even if he (Djan) hadn't done it, he had done it."
Indeed, whether Djan had done it, whether he had been guilty of the charge of adultery, of wrecking Briandt's marital home, is something that will eternally be the subject of opinion or speculation. Djan, who died in March 1987, of course, never admitted to it in his lifetime. The case never even made it to the public space.
But, for Briandt, it was neither speculation nor opinion. That Djan had betrayed him was truth, as far as he was concerned, and he believed this perceived truth so much that it affected the decisions he took in his life from thereon.
"Brian left the job because he didn't want anything to do with Djan after what had happened," Tetteh explains.
The public, of course, had not known this, and so they continued to antagonize Briandt. Yet, even amid these strong waves of antagonism, Briandt would continue to remain anchored in his decision to retreat, not to speak. He would continue to insist on staying away from greatness. "He hid himself from everyone," Tetteh says. "We never knew where he was hiding," Adjaye adds.
He played a few more games for Hearts before finally hanging his boots, at the age of 30, in 1959. In 1961, when Hearts of Oak turned 50, Sir Stanley Matthews wrote a letter to the club's coach, asking specifically of Briandt. "I hope Hearts will persuade Chris Briandt, their former captain, to play at least one match for them in their jubilee year," he wrote. "I hope that you personally (Harrison), Accra Hearts of Oak and I am sure, many football supporters regret his premature retirement."
Following his abrupt retirement was a difficult aftermath. "His life became messed up," Moro says. But this was an understatement. Briandt went through a heart-breaking break-up up with his wife, going on to endure a painful yet deliberate withdrawal into quietude and obscurity, one that would see his name and legend totally fade out, and one that would last until his death.
He continued to work at the Kingsway Stores, retiring aged 52 in 1981, switching jobs by becoming assistant transport officer at the office of the Ghana Revenue Commission. He finally left public service in 1997, and continued living as an avowed recluse until 2004, when he made his first public appearance at the Alisa Hotel in Accra as part of a function to honour him.
The Ghana News Agency's Richard Avornyotse took advantage of Briandt's rare appearance on the radar to track him down for an interview, bringing his story to a generation of football fans who hadn't the slightest idea who he was.
He had to be reintroduced, his story retold.
In August 1951, when Ghana was then a British Colony, the national football team, known as the Gold Coast XI, travelled for a tour of the United Kingdom engineered by Richard Akwei.
The team was made up of 22 of the country's most talented footballers, all technically amateurs, and all without boots.
Yes, playing barefoot was the norm, and these players were to be ambassadors of this culture in the U.K. Somewhere in the middle of the tour – where they played 10 games and lost as many as eight – substantive captain of the team, 28-year-old Timothy Darbah, was stripped off his captaincy by Akwei for leading player agitations for a tour allowance increase.
The new captain selected to replace Darbah was a strange, surprise candidate. He was the quietest member of the squad. At 22, he was also one of the youngest. His leadership qualities seemed inherent – indeed, at his club, Hearts of Oak, he had been captain in 1950, just a year after making his senior debut – yet the expression of this leadership, per his unassuming personality, seemed too subtle. But the authorities were convinced by this subdued sense of authority. And so they bestowed the honour of national captaincy on Emmanuel Christian Briandt.
Briandt's quietness had a gravitas about it, and this made his teammates shy of him. "Even referees were shy of him," Moro says.
That is how he earned his respect, how he managed to establish control. It was unorthodox, but it seemed to do the trick.
He would vindicate this vote of confidence by going on to lead the team to many victories in the subsequent years, especially in the Jalco Cup – with victories in 1953, 1955 and 1957, the most notable being that of 1955, a historic 7-0 thrashing.
Briandt would later refer to the 1955 Jalco Cup massacre of Nigeria as his most memorable match in a national shirt, not because of the odd score line per se, but because the team, for the first time, played in boots - and he had been major part of the reason why.
Briandt and C.K Gyamfi - who would ironically go on to become Ghana's first black coach, fulfilling a destiny that for many years looked like Briandt's – had both bought and brought back boots from the U.K to champion its use locally. But they were met with riotous resistance. The people rejected the boots because playing barefoot had become an entrenched comfort zone. The rejection was so intense that Briandt and Gyamfi – Accra and Kumasi based respectively – found themselves being dropped from teams during matches owing to their insistence on playing in boots. But that resounding victory over Nigeria – Ghana's biggest ever in the history of the rivalry – became the sermon for the propagation of the truth of boots, "killing the debate", as Briandt himself put it.
This achievement was not a one-off. Throughout his career, Briandt had used his position as the most regarded footballer in the land to drive positive change. Almost flawlessly, he had led by example, had gone through a lot to serve his country diligently, only for it all to go down the drain when it mattered most.
When the G.N.A asked why he turned down a chance to go into the history books as Ghana first indigenous head coach, Briandt – even after 46 years of silence – still avoided digging up Djan-Wilhelmina scandal. He didn't want it on public record, even if it meant exonerating himself. The man couldn't be controversial to save his own name.
Instead, he said that he had declined to coach the national team because of "good judgement". Coaching was an art he felt he wasn't cut out for, he said. He felt out of place, he continued, found himself jittery anytime he sat on the bench. He lacked what it took to control players, he confessed. He was the type to plead with them when he was supposed to be ordering them, he added.
It was all true, to be fair, but it wasn't the entire truth, and it most certainly didn't help his case. But for him, it didn't matter, because the damage had already been done, and he'd spent many decades being at peace with it.
He had let it all go, too. "I am a pacifist," Briandt said. "I have forgiven those who caused me pain."
The agony of infidelity had not only driven Chris Briandt to hang his boots prematurely, it had essentially pushed him to apostatize. He renounced and severed ties with football, a religion he'd known, loved and practiced since his school days. "I loved the game so much," Briandt told the G.N.A. "Anytime a referee whistled for the end of a match, I became sad and rather wished the game would never end."
Yet, after 1959, this love turned to disgust. He became disillusioned. Briandt was, as Ayim Ohene wrote, "Brutally betrayed by the game he loved and mentally subverted by the authorities he relied on".
"His anger, frustration and disbelief pushed football completely out of his memory," Ohene continued. "He stopped watching football," Tetteh adds. "Didn't want anything to do with it."
It was a tragedy he would take to his grave. On October 18, 2008, Briandt bowed out of life in a manner typical of how he'd lived – no crowd, no loud. His death, much like his last 49 years of life – occurred on the blindside of many. There were no newspaper tribute spreads, no radio or TV discussions on his legacy, no state burial, no nothing. No one knew him, and the few who did had forgotten him.
Beneath a nondescript grave at the Osu Cemetary in Accra, ironically overlooking the Accra Stadium, lays Ghana's greatest football captain. His funeral, according to Tetteh, had not even been able to attract a 100 people.
"What pained me, and in fact still continues to pain me, is that his funeral was poorly attended," recalls Tetteh. "I was at the cemetery. They couldn't even get him a proper grave – it was a very narrow place where they'd buried someone else and they sort of fixed him in there somewhere. I'm not even sure they completed it."
Tetteh remembers visiting Briandt at his home in Maamobi in his last years, and being heartbroken about how miserable he had become. "He looked really wretched and his home was so old. Everything was dirty. If you saw his room, you'd vomit" he says, shaking his head.
It was an anti-climax to a life that once looked so promising.
"He could have become great," Moro says. "He could have become like C.K Gyamfi."
Briandt wasn't the only one who could have become like the great C.K Gyamfi, whose status as one of the most accomplished personalities in African football history is now sealed.
Adjaye could have, too – except that when Briandt turned down the national coaching job, he (Adjaye) was bizarrely bypassed even though he was next in line. "I wouldn't be able to tell if it was just business or something personal," Adjaye says of his snubbing.
C.K Gyamfi, the third in line, would ultimately get that honour.
Gyamfi was the third Ghanaian footballer to train as a coach. In 1960, Djan sent him to Germany to study, and he returned to work for GAFA as a coach, working in various capacities while understudying the national coach Josef Ember - a Hungarian who had replaced Sjoberg. In January 1962, Djan promoted Ember to 'Technical Advisor' and made Gyamfi - then 33-years-old - Ghana's first indigenous Head Coach.
There was no doubt that Gyamfi's ascent to that high honour was based on merit. As a player, the Daily Graphic hailed him as "Ghana's Greatest" in 1960, and as a coach, he would go on to become the greatest, winning the Africa Cup of Nations a joint-record three times.
But even Gyamfi, who died in September 2015, would have admitted that every great man needs something peculiar to work for him at some point in order to access certain extraordinary opportunities.
So what worked for him? Well, Ohene Djan may have correctly hailed Gyamfi as a 'natural coach' and 'the greatest initials in our history', but all that wouldn't have mattered if he hadn't been a Home Boy.
A Home Boy was a man from the Eastern Regional Akuapim tribe who worked within sports. Djan, who coined and popularized the term, was himself an Akuapim, and according to witnesses of that era, used to favour his kinsmen. "One thing I didn't like about Djan was his 'Homeboyism'," Tetteh says.
Djan's right hand man at GAFA, Benjamin Brako Bismark, was another Home Boy. B.B Bismark hailed from the same Akuapim home as Djan and had served him loyally since the political days of early 50s, ultimately being rewarded with a post as Team Manager of the Black Stars when Djan rose to power.
There were many other Home Boys within Djan's set-up. "Even the drivers who drove us (Black Stars) were Home Boys," Moro says.
Basically, you needed to be a Home Boy to be in Djan's circle, to be a beneficiary of his power, and Adjaye, an Ashanti, unfortunately was not. And so he missed out, with Djan deciding to keep him in the Northern Region rather than to bring him down to the capital to fill in after Briandt's disappearance.
Disappointed and disenchanted, he retired from coaching in 1962, just three years after returning from Germany.
And now, like his friend Emmanuel Christian Briandt, James Kenneth Adjaye is a forgotten hero.
"To be frank, no one remembers us," he says.
"And it's a big mistake."
JOIN OUR PULSE COMMUNITY!
Recommended articles
Raphael Dwamena: Ghana striker dies after collapsing during game in Albania
36-year-old painter wins GH¢6 million bet, flies in private jet to Accra to receive it
Top 10 African cities with the highest purchasing power
Top 10 African countries leading in attracting and retaining talents
Captain Smart hasn't resigned - Onua TV denies earlier reports
10 African countries with the lowest GDP projection for 2023 as the year rounds off
10 African countries with the highest balance of cash inflow and outflow
Govt to increase salaries of public sector workers by 23% in 2024
List of African cities with the highest quality of life