<scriptid="mct-script"src="https://app.mycountrytalks.org/embed.js"data-iframe-src="https://app.mycountrytalks.org/talks/9b3c8cc1-8a05-4fa0-bcc2-edef9d8b28d1/join?starting_question=1153"async></script>
Containing coronavirus: National service personnel in Ghana, 2 others directed to take mandatory paid-leave
Containing coronavirus: National service personnel in Ghana, 2 others directed to take mandatory paid-leave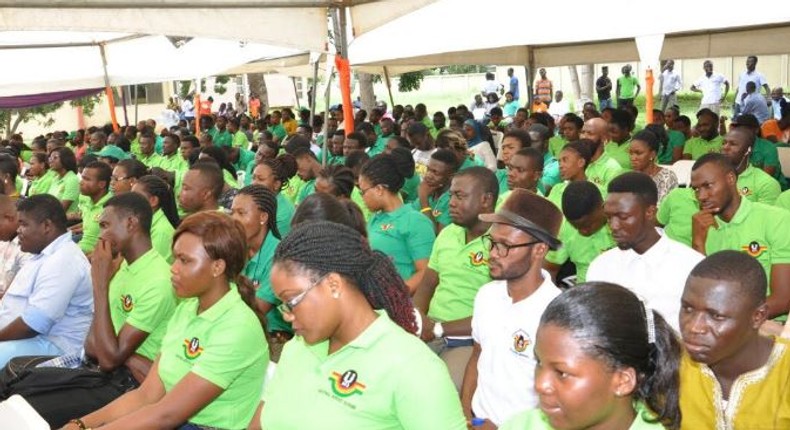 The Ghana National Service Secretariat (NSS) has directed all of its staff working in the country to take mandatory paid-leave.
According to the NSS, the move has become necessary due to the outbreak of the pandemic coronavirus that has hit the country, noting that this is "to ensure staff safety and also help curb the spread of the coronavirus."
The secretariat said this in a press release issued.
The statement noted that this is "in view of the President Nana Addo Dankwa Akufo-Addo's directives on Coronavirus (COVID-!(); in furtherance of the scheme's earlier statement requiring public gathering of its staff and national service personnel to be suspended till further notice in compliance to the Public Services Commission's circular recommending that all interns, national service personnel, NABCO officers and other non-essential staff could take their leave.
Adding that, "Management of the Scheme by this statement directs that all National Service Personnel are to take their mandatory paid-annual leave effective Thursday, March 26, 2020, till the end of April 2020."
The NSS further said, "all newly-posted nurses who are due to start national service in April 2020, are also to take the month of April 2020 as their terminal leave."
Read the full statement here:
JOIN OUR PULSE COMMUNITY!
Recommended articles
Africa's richest woman Isabel Dos Santos finds herself deep in another financial scandal
Net worths of Africa's richest people in the top 500
Top 10 richest mineral-producing countries in Africa
Akufo-Addo to address nation tonight on Covid-19, IMF deal
Polytechnic student commits suicide after losing his and roommate's fees to betting
E/R: Vehicle plunges into river, killing three
Top 10 African cities where it is most expensive to get food
8 persons arrested by Police at NDC primaries for various offenses
List of incumbent MPs who were booted out of candidacy