COVID-Organics: World Health Organisation cautions public over Madagascar's 'herbal cure'
The World Health Organization (WHO) has said that there is currently no proof of a cure for the novel coronavirus.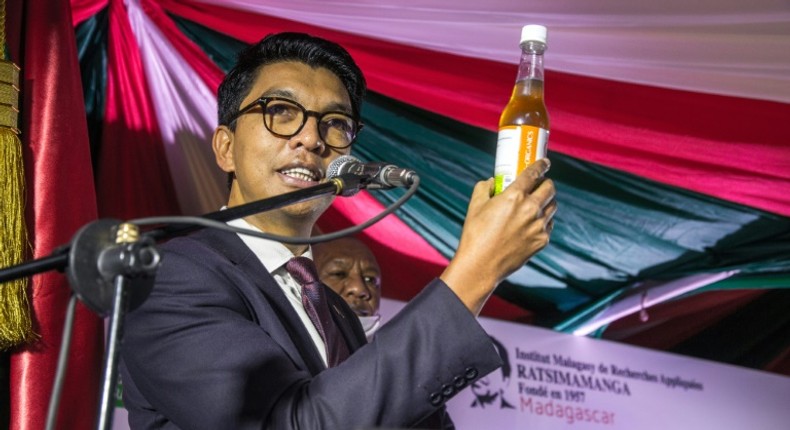 This is coming after Madagascar's president launched a herbal coronavirus "cure".
At the launch, President Andry Rajoelina said the herbal tea which is called COVID-Organics has cured two patients who tested positive already.
Mr Rajoelina said at the launch that "tests have been carried out - two people have now been cured by this treatment."
"This herbal tea gives results in seven days," said the 45-year-old president, who also urged people to use it as a preventative measure…Schoolchildren should be given this to drink... little by little throughout the day," he added.
The product is from the artemisia plant - the source of an ingredient used in a malaria treatment - and other Malagasy plants.
However, a statement sent to the BBC by WHO said that the global organisation did not recommend "self-medication with any medicines... as a prevention or cure for COVID-19."
The statement reiterated the earlier comments made by the WHO head, Tedros Adhanom Ghebreyesus that there were "no short-cuts" to finding effective mediation to fight coronavirus.
Adding that trials are ongoing to find an effective treatment for the novel coronavirus.
Meanwhile, the country's National Medical Academy (Anamem) has also questioned the efficacy of the herbal tea.
As of April 22, Madagascar's case stats stood at 121 cases of which 44 had recovered with no deaths.
JOIN OUR PULSE COMMUNITY!
Recommended articles
Beatrice and Boma face off in new BBNaija Reunion teaser
Why is the dollar shortage crisis in Africa getting worse by the day?
Top 10 happiest countries in Africa in 2022
Georginio Wijnaldum: Why I dropped my Ghanaian surname 'Boateng'
Here are the businesses, bank accounts and properties allegedly owned in Sir John's will
Video: Black Sherif's 'Kwaku the Traveller' plays at O2 Arena during boxing bout
Van Vicker and his wife enjoy vacation in Spain
10 African countries with the largest foreign exchange reserves
Here are the 5 worst cities to live in Africa, according to Economist Intelligence Unit report