Nigerian coconut traders accuse Ghanaians of forming coconut cartels to halt export
Cartels hindering the exports of coconut from Ghana to Nigeria- Nigeria Coconut Traders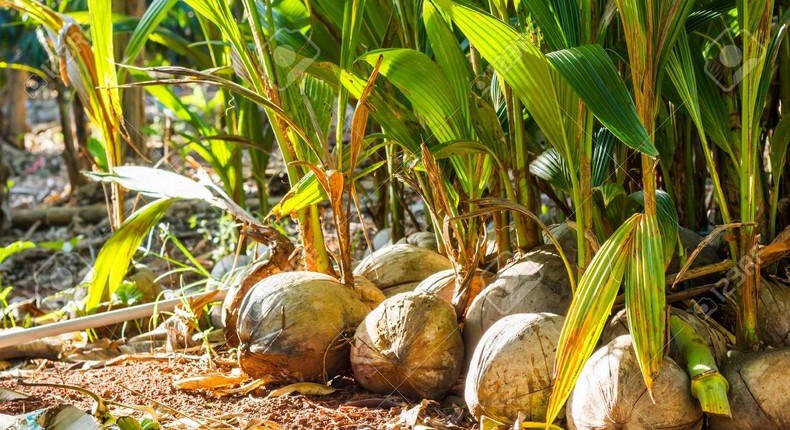 The Nigeria Coconut Traders have accused their Ghanaian counterparts of hindering the export of coconut to Nigeria.
According to them, some Ghanaian coconut exporters are preventing them from fully accessing the Ghanaian coconut industry.
They explained that some Ghanaian coconut exporters and a few Nigerians have formed a cartel to disallow new investors from contacting coconut producers and marketers in Ghana.
Currently, Ghana produces about 60% of the coconut consumed in Nigeria.
Secretary of the Lagos State Coconut Traders Association of Nigeria Hupatin Akpetunde told Accra-based Citi FM that the cartel uses security forces and associations to prevent others from entering the market.
"The cartel is an issue. We realised that some segments of people are now trying to thwart our efforts of investing in the coconut market. The cartel is operated in such a manner that very few people want to control the market without allowing others. They do this through the use of security forces and associations."
He argued that with about 200 million people in Nigeria, Ghanaians can export more to the country if the market is made accessible.
"Presently we have an Agricultural and Industrial revolution in Nigeria, and that has created a vacuum whereby we don't have enough coconut to satisfy our market, hence we look at the neighboring West African countries and having tested Ghanaian coconut we have seen it as very rich. The quality of the food is satisfactory and the size is also acceptable in the Nigerian market. The African economy will grow if we all invest and integrate ourselves into it."
To address this issue, the traders who visited Ghana for the International Coconut Festival have been meeting with their Ghanaian counterparts to find favourable solutions.
This is coming at a time when Ghanaian businesses are complaining about the closure of Nigeria borders which is affecting them.
Ghana produces approximately 229 million pieces of coconuts, equivalent to between 350,000 to 400,000 metric tonnes. However, most of the coconut is consumed domestically.
The Ghana Exports Promotion Authority is, therefore, putting measures in place to promote and expand the acreages for coconut cultivation to take advantage of the increasing demand on the international markets.
JOIN OUR PULSE COMMUNITY!
Recommended articles
BBNaija 7: He has sucked my breast, fingered me – Beauty says as she drags Groovy
Kofi Adomah Nwanwani rushed to the hospital after assassins attacked him
Mentally challenged woman kills young man at Kwame Nkrumah interchange
Ghanaian woman jailed 10 years for killing lover over grasscutter soup
Kizz Daniel arrested in Tanzania over failure to perform
Nigeria vs Zambia: Match Preview, Team News, head-to-head, Prediction
Man beats pregnant wife to death for not cooking dinner before going to church
There's money in Ghana too - Shatta Wale slams Akwaaba UK over failed VISA agreement
G-strings: Here are 3 surprising risks of wearing them regularly