AngloGold promise to invest $1bn in Ghana
Mining giant, AngloGold has reiterated its commitment to invest heavily in its operations in Ghana. This was revealed when the Group CEO of AngloGold, Alberto Calderon paid a courtesy call on President Akufo-Addo.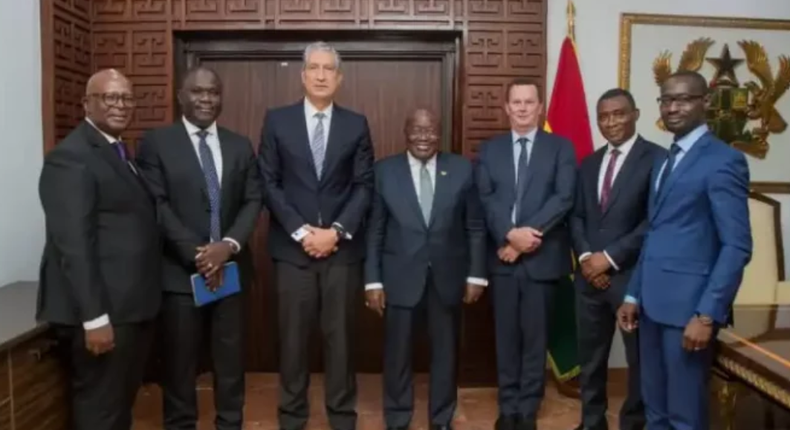 The Group CEO of AngloGold was at the Jubilee House on Wednesday, August 10, 2022
President Akufo-Addo in a brief meeting with AngloGold and the Ministry of Lands and Natural Resources delegation expressed satisfaction with the operations of AngloGold Ashanti in Ghana, especially given that they are providing a service to the community through their activities at the Obuasi and Tarkwa mines.
He also expressed appreciation for the company's pledge to support the sector minister, Samuel A Jinapor, to meet investors on the sidelines of the UN General Assembly slated for September this year.
Calderon on his part reiterated the commitment of their company to mine responsibly and sustainably at all levels.
Earlier, the visiting team also paid a similar call on the Deputy minister responsible for mines, George Mireku Duker, where they reaffirmed their strong financial commitment in Ghana saying, "the board and executives have the trust and confidence to now invest more than US$1 billion in the mining operations in Ghana."
The deputy minister told the delegation that the government through the ministry is creating the enabling environment for mining companies to thrive and AngloGold Ashanti remains an integral part.
The deputy minister said that the government's dealings with large scale mining firms will be anchored on transparency and accountability and will ensure there is a win-win situation for both parties.
The AngloGold delegation included Richard Jordinson, senior vice president (Ghana and Tanzania), Eric Asubonteng, MD for Obuasi Mine, and Samuel Boakye Pobee, MD for Iduapriem Mine.
Get our Top Stories delivered to your inbox
Recommended articles
5 most interesting quotes from African leaders on climate change at the UN general assembly
Fitch downgrades Ghana from CCC to CC
Here's why the US government fears doing business with Kenya
5 most interesting quotes from African leaders on insecurity at the UN general assembly
Top 10 African countries with the most developed travel and tourism sectors in 2022
Africa ready for business — Nana Addo tells investors
Dr. Vanessa unveiled as QIC's new 'Go Girl' icon
International financial system skewed against Africa — Nana Addo
Here's what these African leaders had to say about Africa's debt