Reduce E-levy from 1.75% to 0.5% - Wa residents to government
Some residents of Wa in the Upper West Region of Ghana want government to reduce the controversial E-levy from the current proposed 1.75% to 0.5%.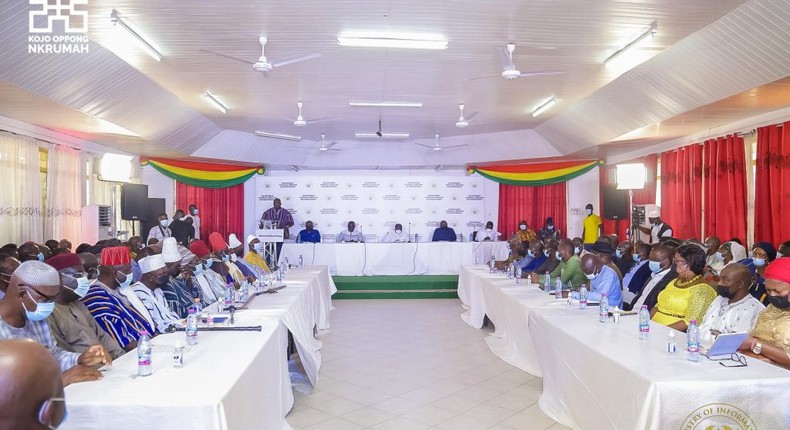 This came to the fore at the town hall meeting on the economy in Wa.
According to a Ghana Broadcasting Corporation (GBC) correspondent, the residents of Wa proposed the reduction of the E-levy rate but said the government can then increase the levy to 1% in the following year and do the same for the subsequent years.
The participants said this will encourage people to continue transacting businesses electronically which will benefit the government and the citizenry.
The town hall meeting had the Finance Minister, Ken Ofori- Atta give the keynote address.
Mr. Ken Ofori-Atta at the town hall meeting claimed the National Democratic Congress (NDC) had planned in their manifesto to introduce a policy similar to the E-levy.
The governing New Patriotic Party (NPP) has been organising town hall meetings across the country to explain and convince Ghanaians to accept the 1.75% E-levy introduced in the 2022 budget.
Government has faced massive opposition from the majority of Ghanaians to the E-levy, with the Minority in parliament vowing to ensure the bill is not passed into law by the Majority.
Meanwhile, a former Rector of the Ghana Institute of Management and Public Administration (GIMPA), Prof Stephen Adei, has said Ghana is in a short-term economic crisis but the country is not broke.
In an interview on Class FM, the chairperson of the National Development Planning Commission said despite the current challenges the economy is going through, Ghana cannot be said to be a basket case.
"I think that Ghana, we have a good country with a good future but we have a short-term challenge; it is quite obvious. We know that at the end of last year, the fiscal deficit was 12.1 per cent, inflation has started climbing up to 12.6 per cent; the currency, which was quite stable – in fact, two years ago, we were the best-performing currency in Africa; I think – is now depreciating very fast; I think the latest, even the official one is about 6.8 per cent [at the bureau]; petrol prices have almost doubled, recently there was a Fitch downgrading of the rating of Ghana to B-" he stated.
JOIN OUR PULSE COMMUNITY!
Recommended articles
Ghana ranks 7th in IMF debt among African Nations with $1.64bn
Ericsson report forecasts 85% of global population to have 5G by 2029, with Africa leading the way
Distinguishing between fake and secure Crypto apps
Starlink is not authorized to operate in Ghana – NCA warns public
Devtraco Plus presents 'The Address': The pinnacle of modern living at Roman Ridge
Most powerful African women in the world 2023
World Bank to provide electricity for 100 million Africans by 2030
Challenges faced by Ghanaians with traditional banks and the need for more
BoG collaborates with Google to remove 200 illegal loan apps