Ghanaians on social media are mocking teachers in the country after a picture making the rounds showed a wrong spelling on the dummy cheque presented to the best teacher on Teachers' Day.
The check was meant for the best teacher as her reward. On the dummy cheque which was presented, the word 'prize' had been spelt wrongly as 'price' by the teachers who organised the ceremony.
The dummy cheque had "Ghana Teachers Price" instead of " Ghana Teachers Prize" boldly written on it with a picture taken with the organisers and Vice President Dr. Mahamudu Bawumia, who was the special guest of honour for the occasion.
READ ALSO: GES interdicts 2 teachers over rape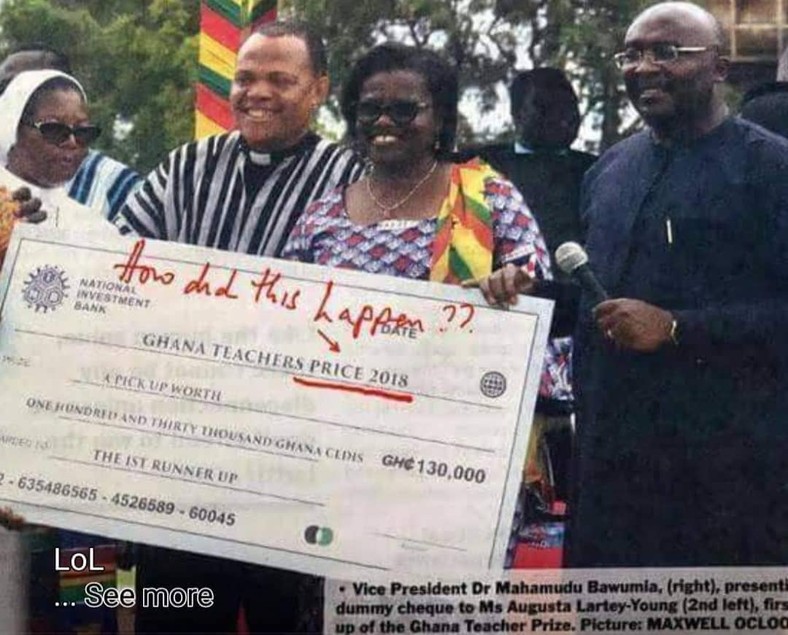 At the event, the Vice President congratulated teachers for their massive contribution to Ghana's socio-economic development.
"These dedicated men and women are our unsung heroes, often working in less than ideal conditions and toiling hard not only to impart knowledge in us but to shape our moral code and prepare us to be responsible citizens," Dr Bawumia declared in Accra on Friday 5th October 2018 in Accra.
Mr. Bawumia was speaking at the maiden edition of the 'Ghana Teacher Prize awards', formerly 'National Best Teacher awards', held at the Presbyterian Boys Senior High School (Presec).