<scriptid="mct-script"src="https://app.mycountrytalks.org/embed.js"data-iframe-src="https://app.mycountrytalks.org/talks/9b3c8cc1-8a05-4fa0-bcc2-edef9d8b28d1/join?starting_question=1153"async></script>
Ghanaians are refusing to use condoms - AIDS Commission laments
The acting Director of Technical Services at the Ghana AIDS Commission, Mr Cosmos Ohene-Adjei said that even though the country imports about 30 million condoms annually, usage is very low.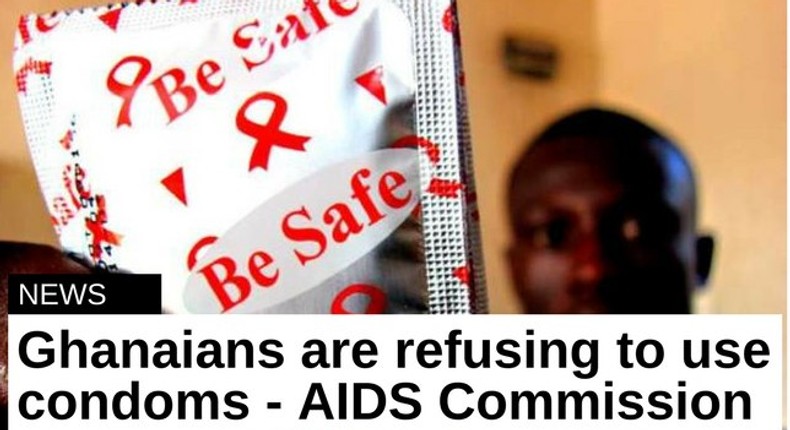 The Ghana AIDS Commission has expressed worry about the low usage of condoms in the country.
The situation, he believes, may affect the country's efforts at fighting the spread of the disease.
There are three preventive mechanisms to prevent HIV/AIDS transmission -  abstinence, faithfulness and condom use.
But Mr Ohene-Adjei said that condom use is believed to offer greater preventive mechanisms.
He has, therefore, advised all and sundry to use condoms to help fight the spread of HIV.
Mr Adjei was speaking during a presentation at the opening of a two-day workshop on HIV/AIDS reporting organised by the African Centre for Development in Accra.
The workshop, which is aimed at helping to end the epidemic by 2020 in Ghana, is being sponsored by the President's Emergency Plan For AIDS Relief (PEPFAR/Emergency Plan) of the United State of America through the American Embassy in Ghana.
Meanwhile, the rate of HIV infection among people in Ghana is increasing, civil society groups have said.
This has been attributed to the inadequate funding from the government and reduced donor support.
In 2000, 3.4% of the population were said to be infected with the disease.
But the figure reduced to 1.4% in 2014 following a massive campaign.
Currently, 2.4% of the population are said to be infected with the viral disease with many having fears that this may threaten the country's move towards achieving the 2016-2020 national HIV strategic plan.
JOIN OUR PULSE COMMUNITY!
Recommended articles
Africa's richest woman Isabel Dos Santos finds herself deep in another financial scandal
Net worths of Africa's richest people in the top 500
Top 10 richest mineral-producing countries in Africa
Akufo-Addo to address nation tonight on Covid-19, IMF deal
Polytechnic student commits suicide after losing his and roommate's fees to betting
E/R: Vehicle plunges into river, killing three
Top 10 African cities where it is most expensive to get food
8 persons arrested by Police at NDC primaries for various offenses
List of incumbent MPs who were booted out of candidacy