'We need industrialization not gimmicks' - Akomfrah
He said this incident "demonstrates the way we have been running our country. We've gone around in circles and sacrificed the dreams of the people."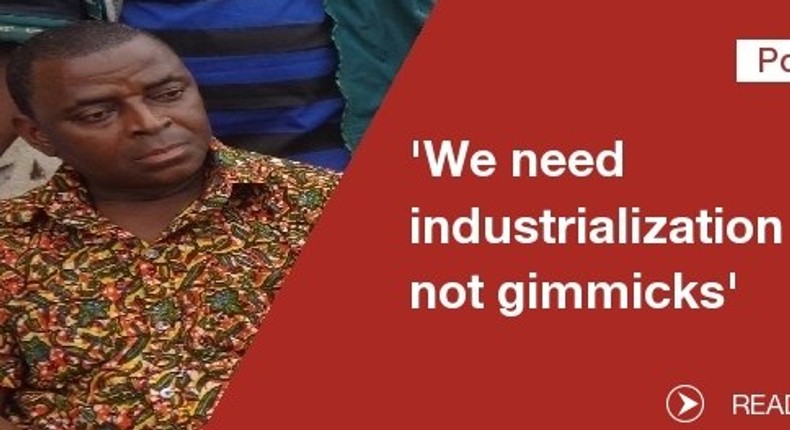 The Convention Peoples Party, (CPP) has charged government to stop playing political gimmicks with the nation's industrial sector.
The General Secretary of the party, Nii Armah Akomfrah said Ghana at the moment needs mass industrialization and not "gimmicks."
President John Mahama on Monday commissioned the rehabilitated Komenda Sugar Factory in the Central Region to begin operations.
However, the Central Regional Minister, Kwaku Rickets Hagan said the factory will be closed down for maintenance just after two days of commencing activities.
Contributing to a panel discussion on the matter on Accra-based Joy FM, Mr. Akomfrah accused the National Democratic Congress (NDC) government of continuously trying "to put itself out as wanting to continue the work of the CPP or continue his ideas but the hollowness of it all at every point in time is exposed."
He argued that "this whole business of setting it up and shutting it down after two days and the Minister says it is not unusual. Of course it is not unusual to shut down factories…but this whole issue about it needs to go into maintenance is bogus! Let's face fact, it's bogus!"
He insisted that no amount of justification can compensate for the shoddy job the government did with the project.
"We've gone round in circles. We have continuously shut down everything that was in place, we've grounded Ghana Airways and we've turned the plane into a fufu chop bar. This piece meal, gimmicky way of doing things is putting the cart before the horse."
JOIN OUR PULSE COMMUNITY!
Recommended articles
Top 10 African countries with the highest GDP projections for 2023
Top 5 economies in Sub-Saharan Africa to watch out for in 2023, according to IMF
Tanzania joins the list of African countries to sign an oil deal in the new year
Shocking IMF report reveals Angola and Ethiopia to surpass Kenya as top economies in Sub-Saharan Africa
10 wedding gowns on trends for 2023 brides
Aisha Modi reveals her killing job in America that pays extremely well (WATCH)
Court orders lady to pay $80,000 to man for dumping him after he paid her school fees
Nigerian LGBT rights activist being installed chief in Ghana falls off palanquin (video)
Kenya and Tanzania tear down 23 trade barriers hindering their commercial relationship