This is why hair extensions are so expensive in Africa
This is the process hair extensions go through before they are shipped to Africa.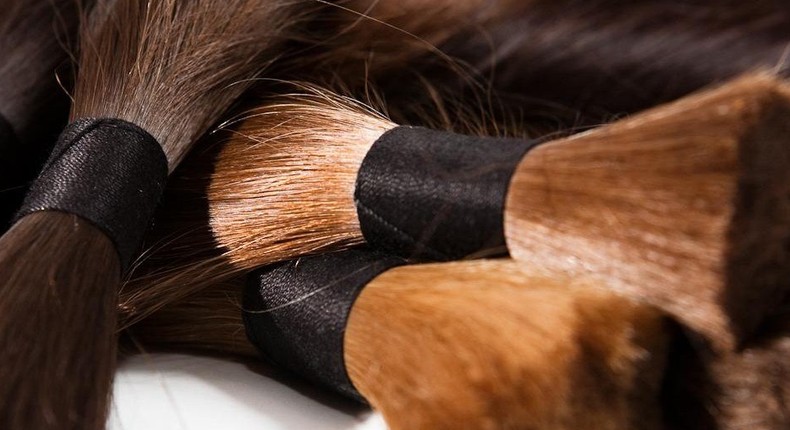 Why spend money on expensive hair extensions when your own hair is silky, easy to style and maintain?
Hair extension has been draining the pockets of many women in the last few years. Arguably, some women feel it adds some glam and class to their look whenever they step out.
But, have you ever wondered where the hair extensions really come from? The best quality hair comes from Asian or Eastern European countries where poverty is relatively high and works poorly pay. Some women often see selling their hair as the best way to make money and feed their families.
Women who grow their hair to sell keep their hair away from any contact with pollutants and make sure it is kept in top condition while to grows.
In some parts of India, women visit Hindu temple as part to perform a religious ritual which involves shaving all their hair as a sign of devotion.
This act is also to thank the gods or ask them for health and happiness in the future. The temple attendants auction the hair to processing plants who take on from there.
Hairs are sorted into different categorizations with respect to length and texture. It is then washed thoroughly and hanged to dry.
The locks go through semi touch up before they are packaged and shipped to different countries. The most expensive of the hair extensions are the ones shaved directly from the scalp.
JOIN OUR PULSE COMMUNITY!
Recommended articles
Meet Africa's Elsa Majimbo the youngest person on Forbes
10 trending kente styles that took over the 'gram in January
10 wedding gowns on trends for 2023 brides
Akufo-Addo screams 'eii!' as dancing woman shakes her big buttocks vigorously [Video]
See what drugs can do to a beautiful soul - Blakk Rasta claps back at Efya
5 reassurances your girlfriend needs to hear regularly
Top 5 economies in Sub-Saharan Africa to watch out for in 2023, according to IMF
West Hills Mall clarifies incident that led to death of a 32-year-old man on its premises
Court orders lady to pay $80,000 to man for dumping him after he paid her school fees