Crabbe's case was "totally pointless" - Lawyer
An Accra High Court on Thursday dismissed a suit against the NPP by suspended Second Vice Chairman, Sammy Crabbe, challenging his suspension.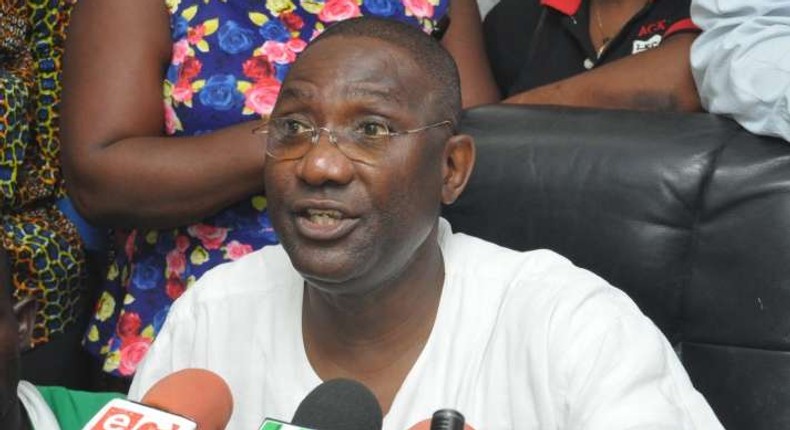 The opposition New Patriotic Party (NPP) has stated that
Mr Crabbe was suspended by the National Executive Committee (NEC) of the party after he failed to appear before a Disciplinary Committee to respond to misconduct charges leveled against him by some members of the party.
Sammy Crabbe months after his suspension dragged the party to court citing a breach of procedure.
In the suit, Mr Crabbe challenged the locus of one of the members of the Disciplinary Committee which took the decision to suspend him.
But Justice Sir Dennis Adjei, who presided over the case ruled that the suit by Mr. Crabbe had no merit.
According to him, the Disciplinary Committee of the NPP has the jurisdiction to hear and punish anyone who breaches the party's rules.
Reacting to the ruling, lawyer for the NPP, Godfred Odame, said the case indeed was unmeritorious.
"It was totally pointless. We invited him to the Disciplinary Committee; he declined the invitation. You disrespect the committee and run to court to claim that you were denied hearing. I haven't heard any matter of this kind before. And I think that it speaks to one thing that every member of the party is subject to the disciplinary rod of the party," he told Joy News.
JOIN OUR PULSE COMMUNITY!
Recommended articles
5 die, 40 hospitalised after eating Waakye from popular joint at Oyibi
Here are ways to naturally enlarge the male organ
Confusion hits family as woman divorces husband, marries daughter's boyfriend
Kenya's economy on shaky ground with majority of diaspora inflows coming from just 5 countries
Here are 4 types of single ladies that men avoid
Kenya and Tanzania tear down 23 trade barriers hindering their commercial relationship
Mouth ulcers: 4 home remedies to treat sore in the mouth
Aisha Modi reveals her killing job in America that pays extremely well (WATCH)
'BBTitans': Blue Aiva sets pulse racing as she flaunt boobs in Biggie's house