'Africa has enough talented people to run our business'
Ivor Ichikowitz, an industrialist stressed that the low cost airline model has revolutionised the airline business and Fly Air is poised to revolutionize Africa with the same model.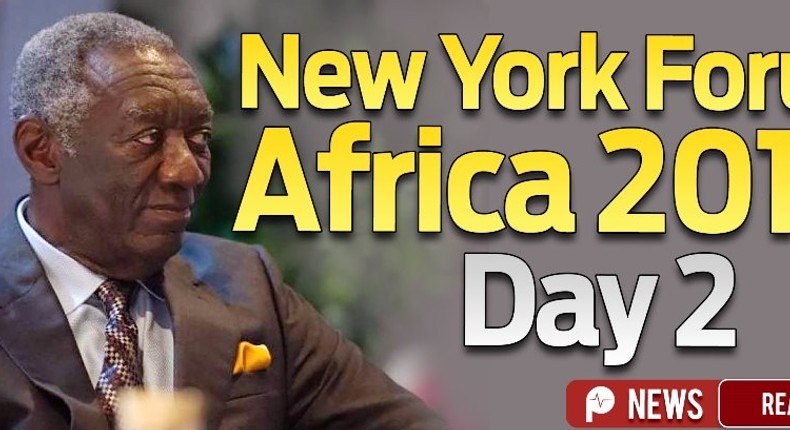 The second day of New York Forum Africa 2015 began with Ministers' Session, where the topic, Transforming Gabon, was discussed.
Moderated by Investment specialist, Mark Doumba, who is also the director for Africa Middle East Resources, the first session had the Gabonese Minister of Economy, Regis Immongault Tatagani and Gabon Mining MD, Fabrice Nze-Bekale as members of the panel.
In his introduction speech, Tatagani disclosed that under the  current administration, some of the structural model include to diversify deeply in basic economy to generate strong growth while engaging in structural change and development so as to bring the country to an emerging state by 2025.
During the session, the Gabon mining MD, Nze-Nekale called for transparency in attracting investors to the Gabon mining sector.
In his words, 'We need to attract mining investors in Gabon and we need to make their exploratory projects easy through transparency.'
The session was followed by CEO Panel which had Amadou Diallo, the Chief Executive Officer of DHL Freight and a member of the DHL Global Forwarding, Freight Management Board, as a panelist.
Diallo left attendees with words to ponder over when he said noted that Africa is blessed with so much that include the right talent to run businesses in Africa and run it well.
Most memorable from the session was a quote from Diallo, who said, 'We have enough talented people in Africa to run our businesses.'
A special announcement from Ivor Ichikowitz, a South African industrialist followed suit.
Ichikowitz, who had an interactive session with BBC's Alan Kasujja, spoke on an idea - low cost airline model and its effectiveness- which he said was conceptualized in one of the editions of NYFA.
Ichikowitz stressed that the low cost airline model which an idea of one of his companies, Fly Air, was borne out of the need to connect Africans and bring innovations to reality. He said the need for cheap and standard air flights around Africa would further help connect people of Africa thereby giving room for innovation through interaction.
The philanthropist also hinted that the whole concept was created in this conference two years ago in Gabon. It has been used in sub Sahara Africa and now we are ready to connect the whole Africa continent.
The New York Forum Africa  is an annual event which brings together political and business leaders from around the world as well as journalists in order to create a global meeting where economic issues and growth can be discussed with solutions proferred.
The NYFA is created by Richard Attias, former organizer of the World Economic Forum and co-founder of the Clinton Global Initiative.
JOIN OUR PULSE COMMUNITY!
Recommended articles
Ahoufe confirmed dead; death of Ghanaian TikToker goes global over Tupac comparison
For women: 4 foreplay tips to drive men wild
ECG timetable: Here are the areas to be affected by 'dumsor'
ECG to release timetable for 14-day power outage
South African rapper, Costa Titch slumps, dies on stage
'Jordan Ayew should be captain after Andre and Partey, not Amartey' – Countryman Songo
Stop listening to secular songs if you are a true Christian - Moses OK
Tracey Boakye shows off newborn baby boy as she reveals his name (WATCH)
10 trending kente styles that took over the 'gram in February