Stop outsiders from controlling Ghana's resources - Nana Nketsia V
Nana Kobina Nketsia V entreated duty bearers to have a clear vision in order to build a resilient economy capable to compete globally.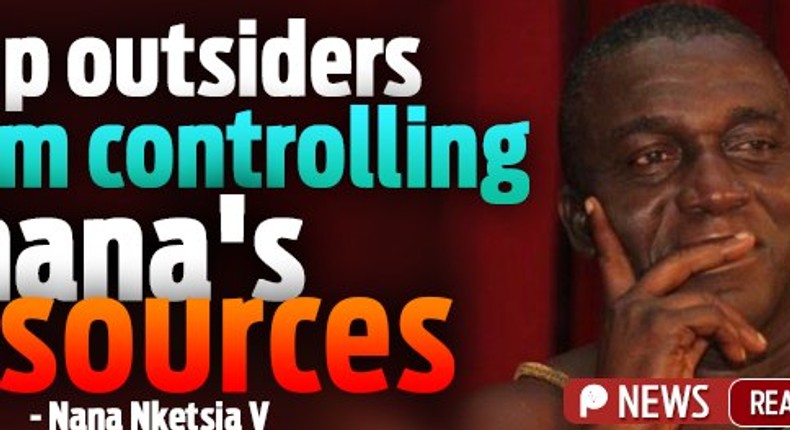 The Omanhene of Essikado, Nana Kobina Nketsia V, has charged government to take charge of the nation's resources.
According to him, it is unfortunate that outside forces are controlling Ghana's resources as well as dictating policies for implementation.
He entreated duty bearers to have a clear vision so that they could mobilise the citizenry to support the country to add value to its natural resources in order to build a resilient economy capable to compete globally.
Nana Nketsia made the observation when he chaired the Annual Public Lectures of the Western Regional branch of Old Vandals Association of the University of Ghana, in Takoradi Polytechnic.
The lecture, which was the fourth in the series, was held on the theme: "Western Region, the most endowed natural resources, how is its youth being prepared to take advantage of them."
Mr Yaw Owusu Sekyere, a Youth Development Advocate and Executive Director of Conservation Foundation, asked  duty bearers to create an enabling environment for the youth to tap into the opportunities available in order to minimise youth unemployment.
He called for the establishment of an independent think tank in the region that would identify potential investment opportunities.
He challenged the youth to develop the necessary skills in order to tap into them.
He observed that the region is endowed with numerous resources including, minerals, water bodies, forest reserves, tourist sites, cultural and archaeological reserves and rich human resources.
Mr Sekyere said if these resources are harnessed properly, it would be the growth pole of the country.
Mr Balertey Gormey, the Programme Officer of Hen Mpoano, a non-governmental organisation interested in sustainable management of the natural resources, challenged the leadership of the country to move away from material-based economy to an industrialised one.
He observed that Malaysia, which had independence at the same period as Ghana, had added value to its palm oil production and currently producing diversified products from that commodity, thus making it one of the world's buoyant economies.
He expressed happiness that some vibrant state factories that flourished during the 1960s, including Bonsa tyre factory, Aboso glass factory, Takoradi Lumber and Veneer Company, WAMCO, Essiama Palm Oil Mills and Axim Bamboo factory had all collapsed due to mismanagement.
Mr Gormey advocated proper planning and deliberate efforts to train the youth in employable skills, in order to turn the fortunes of the country in the right direction.
JOIN OUR PULSE COMMUNITY!
Recommended articles
Man from Benin balances 735 eggs on his head to enter Guinness World Records (video)
'God told me he created my transgender son in his image' - mother of Angel Maxine (WATCH)
"I'm very sorry mum & dad" – Ghanaian lady caught on camera 'serving' blowjob in nightclub
How to orgasm together, here are 5 tips for couples
Vaginal massage: Here's your ultimate guide and why it's good for your sex life
Man gets weak & vomits after tasting friend's drink & food he denied poisoning (video)
California bans condom removal during sex, here's why
'He promised me a house and failed to deliver' – Spiritualist claims he caused Essien's 'downfall'
'Take me back to psychiatric hospital' - Funny Face cries in new video over broken heart