I won't withdraw the court case even if Shatta Wale apologises – Bullgod
Lawrence Nana Asiamah Hanson, popularly known as 'Bullgod', has said he has no plans of redrawing his defamation lawsuit against his former artiste, Shatta Wale.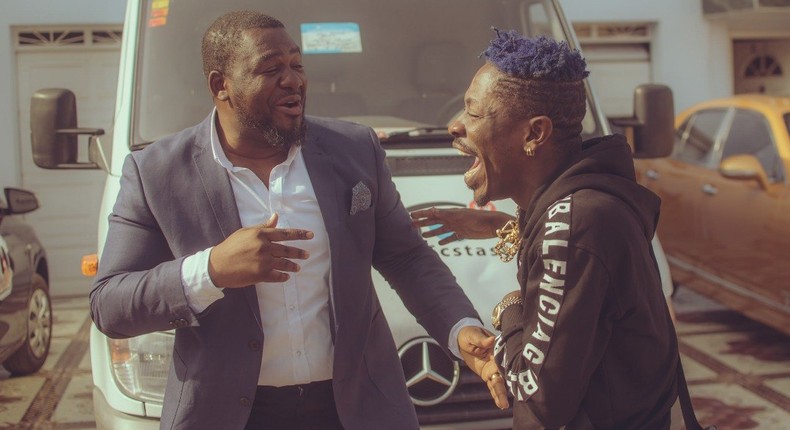 According to Bullgod, the court case will never be withdrawn, even if Shatta Wale apologises.
This was his response during an interview on Joy Prime where he was asked if he will consider an apology from Shatta Wale and drop the lawsuit.
"No, I won't. It is beyond me and it is beyond him now. I have been there before; I have been in that space before. I went through a lot and I didn't go through it alone. I went through it with my family. I did almost a month in cells. My wife grew as lean as an HIV patient, she went through a lot because of me. We already have our challenges cos already I dey disturb her a lot and now this. So, if I have the power to stop her suffering, especially with this case, I will," Bullgod told the host.
Bullgod earlier revealed the motivation behind his lawsuit against Dancehall artist Shatta Wale.
Speaking in an interview with Andy Dosty on Daybreak Hitz, Bullgod highlighted that Shatta Wale had made some defamatory comments against him. He stressed that the lawsuit is simply to put things right and also to clear his name off all the wrong accusations.
"I am doing this for my kids and my wife. No one suffered than my wife", They are not the ones asking me to sue but they were the ones who suffered a lot when I was behind bars. Nobody suffered more than my wife especially. When I got out of cells after one month, she was looking like a broomstick. Slim, drained. She never slept.
Bulldog added, while stating further reasons behind the decision to drag to court, Shatta Wale, whom he had very close working relations with.
"I have suffered a lot from that case and I am still suffering from that case", he painfully revealed, adding that he seeks to put the matter to bed with the lawsuit against Shatta Wale.
The decision follows a social media post on November 2, in which Shatta Wale wrote, "Bulldog, since you are bringing out secrets, you will tell Ghanaians what happen to Fenicks (sic) murder!! And I am not joking about this time!!".
The 'My Level'-hitmaker made other wild allegations that did not sit well with his former manager.
Recommended articles
Actress Benedicta Gafah ties the knot
We'll settle in court, Bullgod pursues Appietus for 'stolen' money
I won't talk about National Cathedral - Diana Hamilton
Spanish fashion designer Paco Rabanne dies aged 88
Black Sherif has made Ghanaian artists useless – Archipalago
Efya crowns herself as the Landlady of Ghana music
We've reduced love to sex and money - Kwabena Kwabena
Stop all the frivolous rap and focus on singing - Hammer advises Kwame Yogot
'BBTitans': Kanaga Jnr and Tsatsii finally kiss in Biggie's house