'I was appointed SA to Bayelsa State Governor before my arrest' - Robbery suspect
A notorious armed robbery suspect who has been linked to several crimes including murder and kidnap says he was made an SA to his state governor.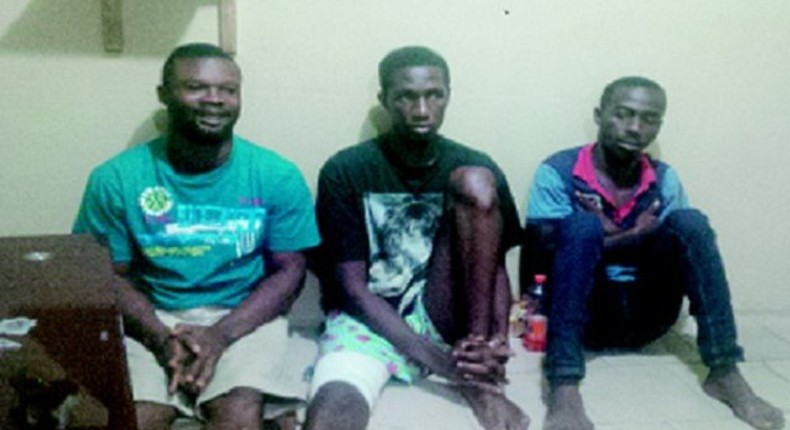 The 27-year-old Isere, also known as White Witch, who was arrested by operative of the Inspector General of Police Special Intelligence Response Team (IRT), alongside the gang leader, Daniel Gogo, alias Full Payment and Ifeanyi Kalu, confessed that he had been in the crime world since 2010 and his gang had made more than N400 million, out of which he became a major sponsor of the Peoples' Democratic Party (PDP), and some of its candidates in several elections in the state and was, at one time, made Personal Assistant to the Chairman of Nembe Local Government Area of Bayelsa State.
The highly connected robbery suspect, also said he used his official Hilux Pick-Up van and some police officers attached to him to carry out some of their robbery spree where more than 15 banks in Rivers State and other South-South states, were attacked and millions of naira carted away.
Isere also confessed to being the executioner-in-chief of Icelanders, a deadly cult gang that operates in the Niger Delta area and are linked to various murders, rape, kidnapping and other sundry crimes.
Read his chilling confessions here:
"Two weeks before my arrest, I had been short listed as a Special Adviser to Bayelsa State Governor, Seriake Dickson, on Oil and Gas Matters, and we were waiting for him to return from his trip abroad so that he would swear us into our various offices.
I did not know that the police got to know about my activities. I was shocked when they trailed me to my house and arrested me and I took them to my boss and he was arrested too.
I am a member of Icelander Confraternity and I am the executioner in-charge of Nembe Local Government Area of Bayelsa State. My elder brother , who is also a member of Vikings, linked me to my boss, Full-Payment, who is also a member of Vikings and he asked him to assist me.
He accepted and brought me into the gang. At that time, I was highly frustrated because after I finished learning underwater welding through the Presidential Amnesty Program, I had no job. I wasn't getting the complete amount from the stipend given to ex-militants of the Niger Delta.
Before the money will get to me, it had gone through several persons and when I will receive mine, it will remain only N20, 000. There was nothing I could do with such an amount.  I have a wife and children to fend for and my siblings are still in school and they are looking up to me.
The first operation I went with the gang was at Uguruta Junction on the Port-Harcourt International Airport Road. We attacked some vehicles conveying a huge sum of money in foreign currency. We killed all the policemen escorting them including a man the police identified as the Regional Manager of the bank where the money came from.
After that operation, I was given N3 million as my share and when I got home, I gave my sister who had already dropped out of school, some money to go back to school. I also gave some money to my younger brother who was also in school. I used part of it to establish a little business for my wife.
Seven months after that operation, my boss told me that there was a job for us at a bank in Trans-Amadi in Port-Harcourt. We were five persons who went for that operation and our target was a bullion van off loading money into the bank."
"Two members of our gang walked into the bank like customers who wanted to make use of the ATM, with short guns and shot into the air when they got close to a point where the bullion van was. The people off loading the money absconded.
We drove our car into the bank and carted away a large sum of money which our vehicle could carry since we came with just one car.  At the end our operation, I got N12 million as my share.  My boss and others who are seniors in the gang got lion share.
After that operation, my boss told us that he was quitting and everyone should go and look for what to do with their money. When I got home, I bought a car, rented a big apartment and I decided to go into politics.
My boss also told me that he wanted to set up a local refinery, so I linked him to one of my uncles who was also into such business.  Before the 2015 election, I and my boss had meetings with some of the political heavy weights in Nembe Local Government and we offered to work for them during the election.
To show them that I was serious, we assured that we were going to bring out our arms, ammunition and money, to support them and they promised to give me pipeline surveillance contract in my area.
But one month before the election, I became very broke and my boss had also invested all his money into his local refinery business; we were left with no other option than to go for one more operation.
Our informant, one , who had once worked in a bank, alerted us about a bullion van that would supply money to a bank at the main Campus of Rivers State University of Science and Technology, UST.
We trailed a van supplying money to the bank and we shot into the air to scare both the policemen, bank security men and workers around the bank and they absconded leaving the bullion van open.
We carted away a large sum of money which our vehicle could carry. On our way out of the campus, we passed through the back gate but unknown to us, there were policemen hiding inside the bush. When I stepped out of the vehicle to open the gate, I was shot on the leg, but my boss came out and gave me a cover.
We shot the gate open and escaped. But the policemen kept on chasing us. They shot at the boot of our vehicle and one of the bags containing some of the money we stole fell off and the policemen also deflated three of our tires.
We stopped another vehicle and transferred all our goods into the new vehicle and escaped. I was given N6 million as my share of the loot and I used part of it to treat my bullet wound.
When it was time for election, we brought in lots of boys, from Rivers, Delta and Imo States, to work for PDP, Bayelsa State and we paid them with our own  money.
After the election, I was appointed a Personal Assistant to the Chairman of Nembe Local Government Area, who gave me  a Toyota Hilux van with a government plate number. I was also linked to the Bayelsa State Deputy Governor.
By October of that same year, some of our gang members became very broke and they called on my boss, Full-Payment, asking him to allow them do one last job which would fetch us enough money to enable us quit robbery, completely.
Our informant told us that money was to be supplied to a bank on Trans-Amadi Road Port-Harcourt. On the day of the operation, we stormed the bank with three SUVs and when the bullion van arrived to supply money, we attacked it by shooting into the air to scare people away.
The bank was close to a police station and the police had blocked the route in front of their station.  My boss who had a Highlander Jeep, drove in first and we loaded his vehicle with huge sums of money and when he was about leaving, we discovered that some soldiers had blocked the route we intended to escape through.
Then, my boss decided to escape through a very narrow road linking him to Mummy B Road, but unknown to him, some policemen had already laid ambush and he drove into it. He was shot on the thigh and his driver, one Kennedy, was also shot and their vehicle came to a halt.  I was behind him in another vehicle when this happened and I quickly approached him and rescued my boss. We abandoned the vehicle and all the money in it. The next day in the news, I read that the police recovered N350 million from us.
That operation was a huge loss and my boss vowed never to participate in any robbery activity again. In December, when the governorship election came, I was given N3 million by PDP and I brought in my boys and we worked for them.
We ensured that all electoral materials were intact and we prevented people from the opposition party from snatching ballot boxes. We also had some policemen working for us during that election.
Between January and February, 2016, while I was waiting for PDP to fulfil the  promises they made to me, and my boss was still nursing his injury, I took our rifles from Bayelsa State with the government Hilux van that was given to me and police escort and organized our boys.
We attempted to rob two bullion vans, one was at  Agip Junction  by  Ada-Gorge Road and the other was at Emenike Junction on Ikwere Road, Port-Harcourt. We failed in those operations but our informant, Promise,  brought a job at Fidelity Bank and warned that we must not allow the Operation Manager of the bank to leave the bank if we must succeed.
We attacked the bank around 4pm. We accosted the woman while she was about leaving the bank and we took her back into the bank. We blew up the security doors, and shot indiscriminately to scare people.
At the end of the operation, we retrieved the RDV from the CCTV recording machine to avoid our faces being detected. We returned to Bayelsa State with the government Hilux leading the way.  We made N24 million from that operation and I got N4million as my share."
JOIN OUR PULSE COMMUNITY!