Man, 41, repeatedly molested 7-yr-old daughter for over a year
A man has been arrested after it was learnt he had been molesting his infant daughter for over a year.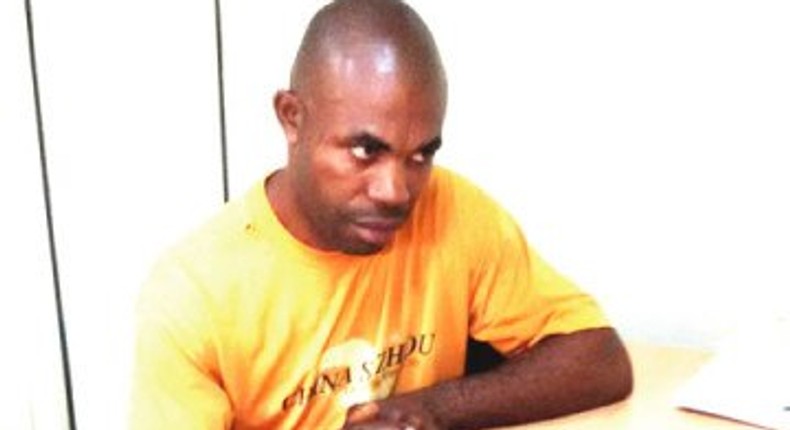 It has been revealed that Emeka Igwe, 41, used to rape his daughter, 7, and then give her money after.
His molestation has led her to become addicted to masturbation.
According to Punch, whenever she felt a sexual urge and her father was not around, she would invite boys into her parents' residence at the Federal Housing Estate, Meiran, Ojokoro, Lagos, to 'play with her private parts'.
When the victim's mother first detected the act in January, 2015, she reported to policemen at the Ojokoro Police Division, but the case was dismissed as a family matter.
The police reportedly threatened to detain her, while her husband's family accused her of inciting her four children against their family.
The accused allegedly continued to molest his daughter in their apartment until August, when the matter got to the attention of the estate executive.
The trader, from Imo State, was apprehended and reported to the Project Alert on Violence against Women, a non-governmental organisation, from where the case got to the Area F Police Command.
Ngozi, who is in primary 3, said that her father had been assaulting her since 2014.
She explained that after inserting his fingers into her private parts, he would press her head down and force his manhood into her mouth, adding that he always gave her N10 after the act.
She said her nine-year-old brother, Emeka, sometimes watched from a window.
"My dad does it anytime; in the morning and in the afternoon. My mum always goes to the market. He will then give me N10 to buy something.
He will open his leg and press my head down and put his private parts into my mouth. After that, he will say I should scratch his body. He will now carry me down and put his fingers in my private parts again.
He started it last year when my mother was washing clothes and I went to buy something. He asked me to come into the parlour and told Ebuka, Chioma and Chibuike (her siblings) to go into the bedroom. I did not know that Ebuka was watching from the window."
Her mother, Endurance, told PUNCH Metro she had been married to the suspect for more than 10 years, without knowing he was capable of such act.
The 40-year-old said her first child, Ebuka, had been telling her that Ngozi masturbated, but she never believed it.
"The first time she did it in my presence was sometime in January, while I was preparing a meal and I saw her. I beat her up and asked her to stop it because it was bad.
I later told my husband my observation and he said nothing was wrong with her.
My four-year-old neighbour's son came to our apartment and Ngozi took her to our bedroom and asked the boy to put his fingers in her private parts. It was the boy's mother that saw them.
I called her and asked if anybody had been playing with her private parts and she said no."
Endurance said Ebuka later told her what had been happening between father and daughter.
The other children were said to have corroborated Ebuka's account, before Ngozi also confessed to her mother.
She said she confronted her husband with the allegation, adding that he got angry and started beating the children for every slight offence.
She said when she could no longer bear it, she reported at the Alakuko Police Station, from where she was referred to the Ojokoro Police Division.
it was learnt that a test was conducted on the victim at the General Hosptal, Ile Epo, which showed there was an opening in Ngozi's private parts.
Endurance said she was advised to run an infection test on her daughter, before her in-laws asked her to withdraw the case.
She said the Divisional Police Officer at Ojokoro threatened to lock her up.
"The DPO said I deliberately set up my husband because he had not been treating me well. I was in tears," she added.
She said they all returned home and things went back to normal until in August when her first child reported to her that their father had started "playing with Ngozi's private parts" again.
"I called Ngozi and she told me that her father had started playing with her private parts. She said he asked her to kneel down and forced her to suck his private parts.
"Then, two weeks ago while I was washing clothes, Ebuka came and said their father gave Ngozi N20 and did not give him anything. After he left, Chioma also came and said the same thing.
"Later, I called Ngozi to know what made her father gave her the money. She told me it was N10, adding that he played with her private parts."
The neighbours were said to have challenged the suspect, but he denied doing anything to the child.
The community youth leader, Olaitan Adebiyi, said that he got to know about the case after eavesdropping on a conversation in the street.
He added that he later met the victim's mother, who narrated her ordeal to him.
He said, "The estate executive met and we decided to go to his house to investigate. His co-tenants confirmed that he had been doing it for a long time. We decided to get him arrested.
"He came into his apartment around 12.30 on Thursday night, and we decided to keep vigil at his door step till day break. He was about leaving the house on Friday when we apprehended him and told him he had a case to answer."
The suspect, however, denied assaulting his daughter.
He said, "I did not do anything to Ngozi. The day I called her and gave her N10 to buy biscuit, her siblings asked me for their own, but I said I was not the one that gave her the money.
"I have touched her private parts only once. I did not know the time it happened. I touched her last year. I said, 'Amaka, remove your pants. Why did you soil your pants?' I then took water and washed her. That was all."
The Director of Project Alert, Mrs. Josephine Effah-Chukwuma, said the group was ready to take up the case.
"This is a clear case of sexual abuse, and we are having an epidemic in our hand. Hardly a week goes by without us having cases of children between the ages of three to seven being defiled.
"It is clear that this woman and her children can no longer live with him. The victim is seven and she has a five-year-old younger sister, and if this is not well handled, this man will move on to the little girl as well."
The Police Public Relations Officer, Lagos State Command, Patricia Amadin, confirmed the incident.
She said, "The case is confirmed. The suspect has also confessed to the crime, especially after his first son said he saw him.
JOIN OUR PULSE COMMUNITY!
Recommended articles
My husband says I should be ashamed of menstruating in his house every month – Woman cries
Social media users praise soldier for beating up 2 nurses & breaking one's leg
Soldier takes pregnant wife to hospital for delivery, beats up 2 nurses, breaks one's leg
Ghanaian married woman says side-chicks help marriages to survive: "Why should I be jealous?"
Woman kills 5 relatives for $95,000 insurance cash
'Go and sin no more' – Court cautions Evangelist for fingering, fondling woman
Police on manhunt for man who raped 90-year-old mother
12-year-old school dropout turns preacher to get money to feed sick father & grandmother
Man storms female MP's bedroom with machete: "He told me to face the wall & say my last prayers"