6-yr-old girl gives her parents the most amazing divorce advice ever [VIDEO]
This 6-yr-old girl seemed to have had enough of her divorcing parents continuous fights and decided to give them a pep talk since they are now like kids and she has been forced to become an adult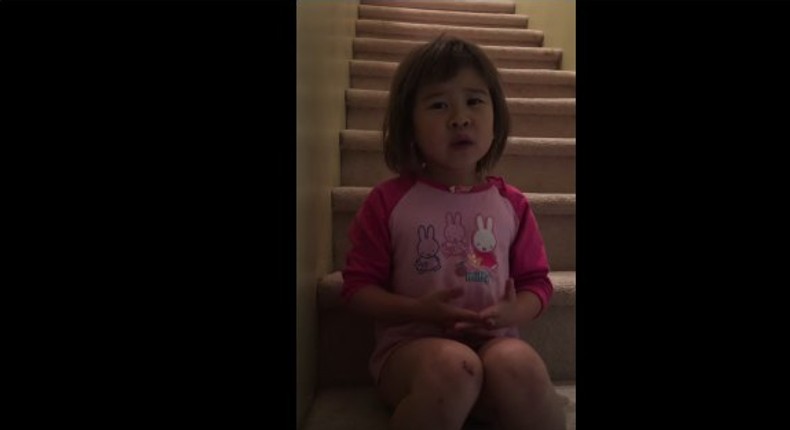 The bad part about divorce is the children being affected as a result of a messy split.
This 6-yr-old girl seemed to have had enough of her divorcing parents continuous fights and decided to give them a pep talk since they are now like kids and she has been forced to become an adult in this present circumstance.
The little girl is seen in the video uploaded on YouTube sitting on stairs while dishing out divorce advice to her mother who can be heard in the background.
"I think you can settle your mean heights down a little to short heights," she says.
"I'm not trying to be mean," she tells her mum. "I just want everyone to be friends."
Such a wise and confident little girl.
JOIN OUR PULSE COMMUNITY!
Recommended articles
Ghanaian man says he's lost love for "very beautiful" wife of 7 years who loves him so much
Boy, 13 with disability who crawls over 4 hours to school is among the top 4 in class (video)
My husband's side chick wants him to send her abroad or she'll tell me about her pregnancy - Woman
12-year-old girl single-handedly carries pregnant mom in labour across lake at night to hospital
Pretend to have lost your job & observe how your wife treats you in the next 14 days – Woman to men
Single mother of 9 children sentenced to death despite her cry for mercy
"All he does now is ride bicycle around" – Meghan Markle's father disappointed in son-in-law
"I accepted to embark on the operation to get money for internet data" – Armed robber says
George Weah rewards Emmanuel Tolue with far more than $50,000 he found & returned