Australians no longer safe as thirsty snakes sneak into toilets
Due to the dry season, Australians are no longer safe as thirsty snakes are moving into homes with two pythons recently found in toilets.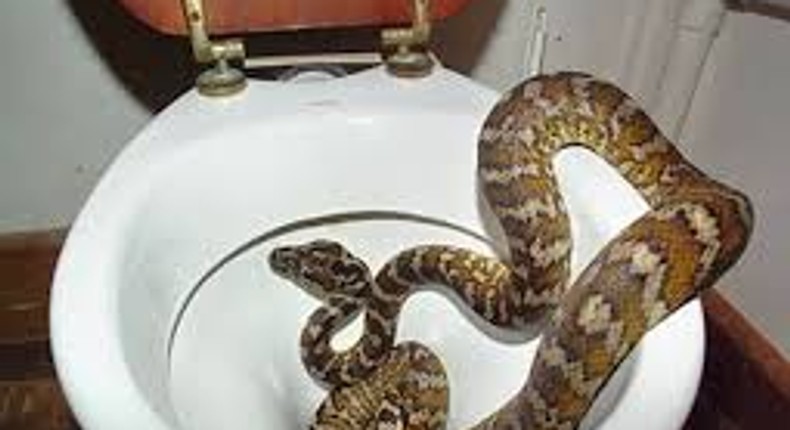 Snake catcher Elliot Budd spent 15 minutes removing a 2.4-metre carpet python from a Townsville U-bend on the weekend, a week after he released a three-metre beauty he found coiled in a toilet.
Budd could not unbolt the toilet and said tugging at the creature would have caused it injury.
"Its head was just sitting there looking right at you," he said.
"After about 15 minutes of just holding him, he just came out by himself."
James Cook University reptile expert Professor Lin Schwarzkopf said it wasn't usual for snakes to go into toilets.
She said they liked moist places with objects to hide under but had become more bold in the search for water during a dry breeding season.
"They can fit in under doors," she said.
"There's not much you can do."
Budd said he had never pulled a snake from a toilet before but because of the dry season he has removed snakes from pools, kitchens, offices and gardens.
Schwarzkopf also said dripping taps, pipes and sprinklers could attract snakes, which posed little danger as long as an experienced removalist was called.
JOIN OUR PULSE COMMUNITY!
Recommended articles
'Go and sin no more' – Court cautions Evangelist for fingering, fondling woman
Police on manhunt for man who raped 90-year-old mother
12-year-old school dropout turns preacher to get money to feed sick father & grandmother
Man storms female MP's bedroom with machete: "He told me to face the wall & say my last prayers"
"Whoever said CS surgery was very painful lied" - Vera Sidika says after giving birth
Ghanaian man says he's lost love for "very beautiful" wife of 7 years who loves him so much
Boy, 13 with disability who crawls over 4 hours to school is among the top 4 in class (video)
My husband's side chick wants him to send her abroad or she'll tell me about her pregnancy - Woman
12-year-old girl single-handedly carries pregnant mom in labour across lake at night to hospital