11 year-old girl goes viral after she delivered her baby sister
An 11-year-old girl goes viral after she single-handedly deliver her baby sister before going to school for the day.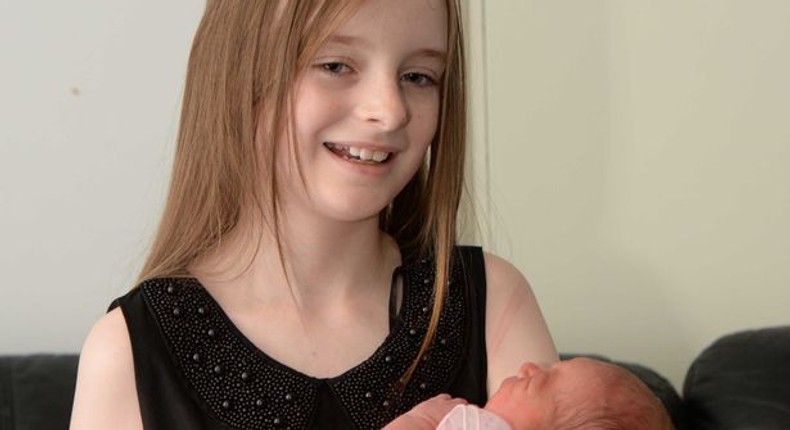 Caitlin Burke, 11 sprang into action when mum Tara Knightley's waters suddenly broke at home in Dordon, England.
She called the Emergency service and she was guided by ambulance staff on the phone as she took control of the birth of her baby sister named Elsa-Monet.
She even managed to unravel the cord which was wrapped around the baby then proudly handed her to her mum.
Caitlin, who is the eldest of five children, said she has been so inspired by what happened she now wants to be a midwife.
She told Mirror UK: "I was a bit scared and shakey at first because I had never seen anything like that before in my life.
"But when my sister was born, I was really happy. I think she's really cute and I love her very much.
"My friends at school and the teachers were really happy and proud of me. I want to be a midwife when I'm older."
Caitlin's mum Tara said her daughter stayed clam throughout the entire ordeal
"Caitlin was just amazing. I find it difficult to put into words just what she has done for me," said stay-at-home mum Tara.
"I don't know what I would have done if Caitlin had not been there.
Despite helping with the delivery of her baby sister, Caitlin went to school the next day.
JOIN OUR PULSE COMMUNITY!
Recommended articles
'Go and sin no more' – Court cautions Evangelist for fingering, fondling woman
Police on manhunt for man who raped 90-year-old mother
12-year-old school dropout turns preacher to get money to feed sick father & grandmother
Man storms female MP's bedroom with machete: "He told me to face the wall & say my last prayers"
"Whoever said CS surgery was very painful lied" - Vera Sidika says after giving birth
Ghanaian man says he's lost love for "very beautiful" wife of 7 years who loves him so much
Boy, 13 with disability who crawls over 4 hours to school is among the top 4 in class (video)
My husband's side chick wants him to send her abroad or she'll tell me about her pregnancy - Woman
12-year-old girl single-handedly carries pregnant mom in labour across lake at night to hospital