Bus driver caught on camera having sex with himself in public while watching porn
A London bus driver was caught on camera pleasuring himself between two seats of a bus while watching porn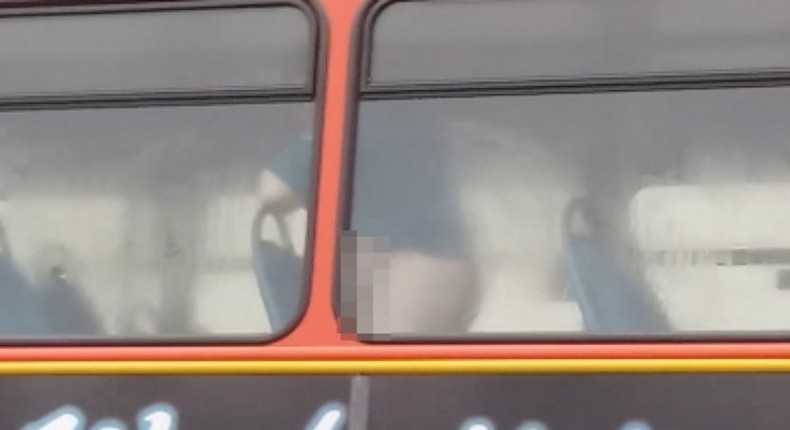 A London bus driver was caught on camera pleasuring himself between two seats of a bus while watching porn.
Footage shows the driver naked from the waist down, leaning between two seats at the top of the parked vehicle in a depot.
Mohamud Mohamud, 38, and his brother Hazma, 26, were standing outside their home smoking a cigarette when the situation unfolded at 12pm on Saturday.
Mohamud told Metro UK: 'I was so shocked. I saw that he is almost naked on the top of the bus and could see him rocking forwards and backwards.
'At first I couldn't figure out what he was doing, but when I realised I got my phone out to start recording.
'There must be something on the seat in front of him, you could see his right hand reaching for something which is on the seat in front so I believe that was his mobile and we think he was watching porn.'he added.
A spokesman for the bus company said: 'We have immediately contacted the bus operator, Arriva, and they confirmed that they have suspended the driver while the incident is investigated.'
JOIN OUR PULSE COMMUNITY!
Recommended articles
Man arrested for putting himself up for sale (video)
Ghanaian lady angry as family rejects mortuary manager she wants to marry: "I don't mind going ahead"
11-year old boy always isolates himself to cry as bullies call him crocodile (video)
"I can't believe my girlfriend thinks I'll marry her" – Man says he'll leave lover after he gets "decent job"
30-year-old Ghanaian man stones mother to death after she begged him not to travel at night
"Anybody that forgives you for cheating is also cheating" – Lady claims
Ghanaian lady seeks help as 2 guys she was dating at the same time reject pregnancy (video)
Bride & groom float in a cooking pot to wedding as flooding kills 27 people (video)
My husband says I should be ashamed of menstruating in his house every month – Woman cries