10 Heartbreaking pictures of migrant children who are forced to sleep in forests, alleys and gutters of Europe
These heartbreaking photos show where children fleeing Syria are now forced to sleep.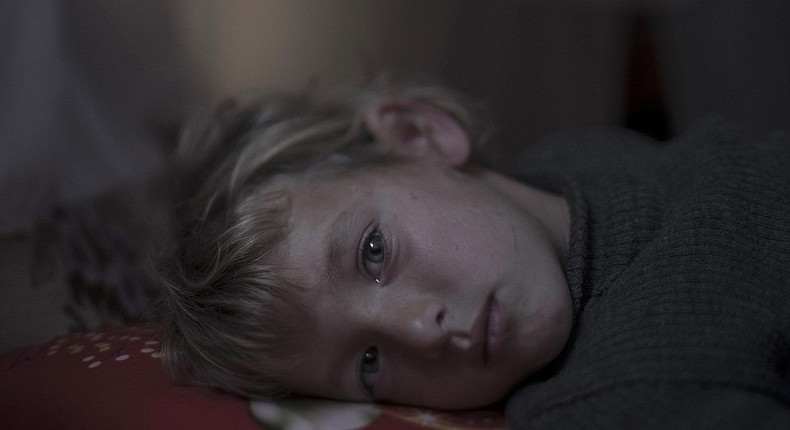 Staring into nothingness, sprawled on a filthy mattress, lying cold and frightened in an unfamiliar bed, in forests, alleys and gutters of Europe.
These heartbreaking photographs as published by Daily Mail document where those children displaced by the battle for Syria now sleep after fleeing the country in search of a better life.
Abdul Karim, sleeps on the streets of Athens, Greece. With no money left, the teenager bought a ferry ticket to Athens with his last euros. Now he spends the night in Omonoia Square, where hundreds of refugees are arriving every day. He wish for two things - to sleep in a bed again and to hug his younger sister.
Ahmad sleeps on the pavement on the border of Hungary and Austria. At home in Idlib, he escaped with his life despite being hit in the head by shrapnel, while his younger brother died. Forced to flee, Ahmad and his family have slept in bus shelters, on the road and in the forest since leaving Syria.
Abdullah, 5, sleeps on a filthy mattress outside central station in Belgrade. He suffers from a blood disease and witnessed the killing of his sister at their home in Daraa, Syria. His mother has no money to pay for medicine, and he is still in shock and suffers nightmares.
4. Meet Raila and Rahaf, 7 and 13
Every night for the past year, Ralia and Rahaf, aged seven and 13 years old, have slept on pieces of cardboard on the streets of Beirut with their father. Originally from Damascus, a grenade killed their mother and brother.
Ahmed, 6, sleeps on the grass in Horgos, Serbia. He carries his own bag over the long stretches that his family walks by foot as they attempt to make their way to the safety of Europe. Ahmed is cared for by his uncle after his father was killed in their hometown Deir ez-Zor in northern Syria.
One-year-old Sham, from Syria, is held in her mother's arms at the border of Austria and Serbia. The pair, who are desperate to reach Europe, arrived in the area just a day after a large group of refugees were let across the border.
Shehd, 7, loves to draw. But scarred by her upbringing during the Syrian Civil War, she only draws pictures of weapons. They are everywhere, her mother explained. Her family has difficulty finding food during their wanderings in Hungary.
Lamar, 5, originally from Baghdad, sleeps on a blanket in the woods near Horgos, Serbia. She and her family were on their way to buy food when a bomb was dropped close to their house. Forced to flee, after two attempts to cross the sea from Turkey in a small, rubber boat, they succeeded in reaching Hungary's closed border.
Juliana, 2, has spent the past two days walking through Serbia in an attempt to cross the border into Europe. She sleeps during the day because at night her family attempts to make the crossing.
Tamam, 5, can recall the air raids on her hometown of Homs which usually took place at night. Although she has been sleeping away from home for nearly two years now, she still doesn't realize that her pillow is not the source of danger, her parents said. Here she is pictured lying down in Azraq, Jordan.
JOIN OUR PULSE COMMUNITY!
Recommended articles
Amazing transformation of 21-year-old man bullied for being born different (video)
Tiwa Savage's blackmailer leaks her bedroom tape, singer reacts (SCREENSHOT)
Sex: How long should you wait before having another round?
Video: Black Sherif goes global as players of Ligue 1 club jam to his 'second sermon'
Kuami Eugene reportedly throws plush birthday party for his house help, Mary (PHOTOS)
Funny Face leaves suicidal note for his children as Qwik Loan asks him to pay loan (SCREENSHOT)
Shatta Wale allegedly shot; P.A says he's been rushed to emergency ward
'Is he not gay?' - Social media react to Nana Tonardo kissing his 'white sugar mummy' (VIDEO)
My life is in danger and I'm on the run till this country shows me there are laws – Shatta Wale