How to make fried meat pie this Christmas
Look no further for Christmas recipes and dinner ideas. Get into the spirit of Christmas with our delicious food recipes.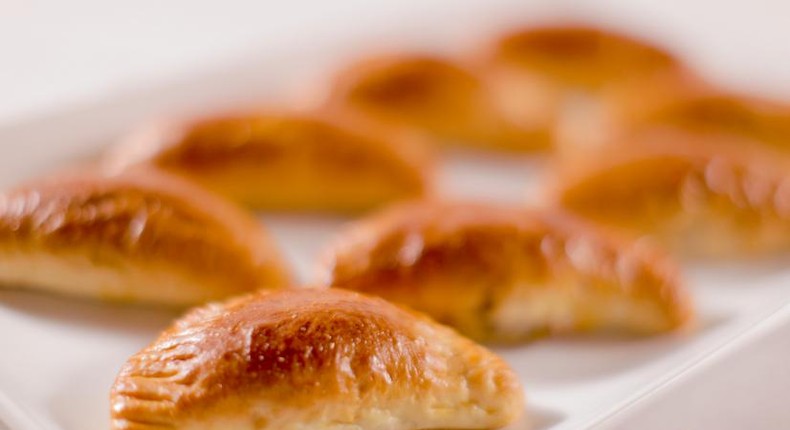 Pulse.com.gh brings you How to make fried meat pie this Christmas.
Five heaped table spoons plain flour
Half tablespoon butter/margarine
Half medium size onion &1 clove of garlic blended smooth
1. Pour the flour into the mixing bowl
3. Add the butter/margarine
4. Using the hand, rub the ingredients in
5. Blend the onion and garlic with water
6. Pour the mixture to the flour bit by bit to make a firm dough
7. Dust the chopping board with some of the flour and roll the dough into a thin pastry
8. Cut them into squares ( about 10cm side)
9. Dub your pastry brush in water and smear on the edges of the square pastries
10. Fill the squares with the cooked noodles
11. Turn one corner of the squares to firm a triangular shaped pie
12. Press the edges down very well so they are well sealed.
13. Heat the oil for deep frying
14. Fry the pies turning them after the first 4-5 min and allow to cook for another 3-5 min till golden brown.
15. Mix the shredded cabbage and sardine well and fill the squared pastries with the cabbage and sardine filling and repeat the steps 11-14 till all done.
16. Allow to cool and serve as a snack or part of party chops.
JOIN OUR PULSE COMMUNITY!
Recommended articles
Releasing sex videos of Aisha Huang with 'big men' is a crime — Charles Bissue
Yvonne Nelson issues an apology to ex-Blackstar player Stephen Appiah and teammates
Reactions trail Nigerian Professor's comment about 'dying' Queen Elizabeth
Kwame Nkrumah didn't achieve anything; Akufo-Addo is better than him – Agya Koo
Widow speaks after husband sets ablaze himself and 2-year-old daughter
Chelsea owner Todd Boehly edging closer to buying second football club
'It's over a year' - Stefflon Don finally speaks on break up with Burna Boy (WATCH)
5 reasons your teeth are turning yellow
5 foods that increase penis size naturally