DIY Recipes: How to make Air fryer Popcorn
Air fryer popcorn is easy to make.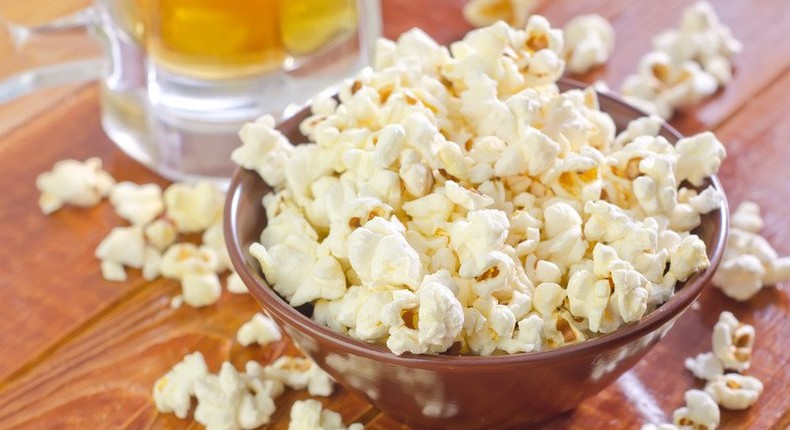 ½ teaspoon Oil (optional but recommended)
2 teaspoons Powdered sugar
A Pinch of salt (Adjust the salt as needed)
Preheat air fryer to 400°F / 204°C for 2 mins
Mix oil with popcorn kernels.
Tear out a piece of foil, pull out air fryer basket and lay it flat in the center of the basket. Make sure the piece of foil doesn't cover the whole basket to allow for heat and air circulation. The basket will be hot be sure to wear oven mitts.
Air fry Popcorn kernels at 400°F / 204°C for 9-10 mins. (If you do not preheat air fry for 12 mins)
Open the air fryer when the popping sound reduces.
Melt butter or coconut oil in the microwave.
Mix in powdered sugar and salt, then toss popcorn in the mix
JOIN OUR PULSE COMMUNITY!
Recommended articles
How to make tasty prawn crackers at home
10 female celebrities who do not show 'skin' in outfits yet stay sassy
DIY Recipes: How to make Chicken peanut stew
The best celebrity pictures on Instagram this week
Can't be Ghana: Here's what was served at Kourtney Kardashian's wedding reception
Wedding on a budget: When should you start planning your wedding?
5 best ways to treat under-eye puffiness at home
How to make crispy and creamy doughnuts in your kitchen
DIY Recipes: How to make Chicken cheese sandwich