DIY Recipes: How to make Chicken sauce
This sauce is best enjoyed with rice.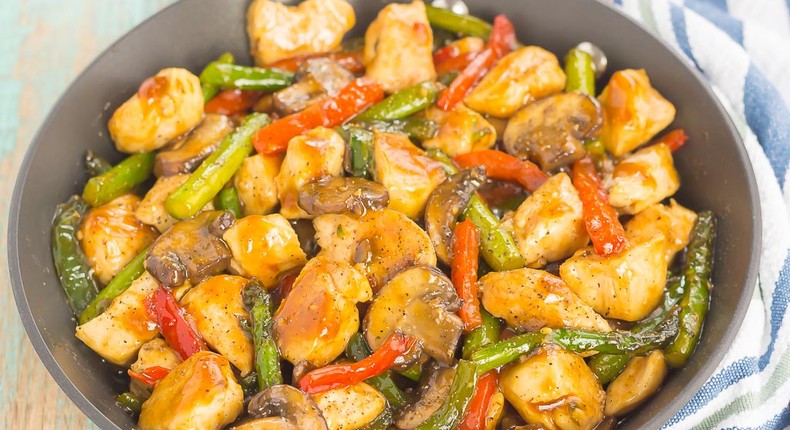 It is easy to make and very delicious.
1/3 kg chicken breast or thighs
1 or 2 green chillies add more for extra heat
1-2 teaspoon Adobo seasoning or any all-purpose seasoning like Badia's
1 stalk celery thinly chopped
4 large carrots (diced) adjust for preference
1/2cup/ 120ml-1cup/240ml water plus chicken stock cube/ chicken stock
1/4 teaspoon white pepper
Cut chicken into desired sizes and marinate chicken in the above seasoning overnight in the refrigerator or for 10 to 15 minutes.
Put oil in a saucepan. Add onions, garlic and celery. Sautee for 3 to 5 minutes till its fragrant and onions are softened. Do not brown or caramelise the onions. Add the marinated chicken pieces together with the marinade, cover and let steam for about 5 minutes on high heat.
Add carrots and white pepper. Add the chicken stock cube and water or chicken stock. Make a corn flour water solution with 1 to 2 tablespoons of corn flour with a little water.
Add the solution, taste and adjust for salt. Simmer for 3 to 5 minutes till the sauce is thickened and carrots are tender.
Serve alone or with any carbohydrate dish of your choice.
Get our Top Stories delivered to your inbox
Recommended articles
DIY Recipes: How to make Sausage salad
The best celebrity pictures on Instagram this week
Hair extensions may pose a fire hazard
Bad date? 3 sneaky ways to escape from this uncomfortable situation
Yvonne Okoro's birthday photos prove she is peng
​Turmeric: 6 unique ways to use this ingredient
30% off everything at Lyoly
6 clear signs he wants to marry you
Women, this is why you should learn to initiate s*x more in your relationship