DIY Recipes: How to make Ghanaian Caramel coconut balls (Kube cake)
Ghanaian Caramel coconut balls also called Kube cake is one amazing snack eaten in bother Ghana and Nigeria.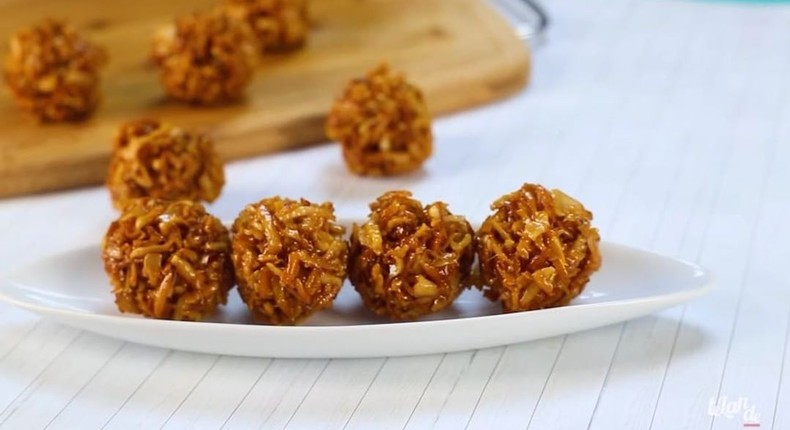 All you need is coconut, sugar and a little lemon juice to enable you to get a soft caramel.
2 teaspoons lemon juice(optional)
1 teaspoon butter or margarine
Crack a fleshy matured coconut, remove the brown bark.
Wash and grate the coconut into as larger shreds. This will contribute to a chewy texture. Set aside
On low heat, place sugar in a saucepan, and add lemon juice and some water.
Stir gently and continuously using a wooden ladle to dissolve the mixture and bring to a boil.
Allow the caramel to boil from 5 to 10 minutes without stirring, which will prevent granules from forming. Keep an eye on the mixture, as caramel can burn quickly.
Once the caramel is deep brown, add the shredded coconut and cook for 5 minutes, stirring occasionally.
When the mixture is sticky, remove it from the heat and allow it to cool slightly.
Grease a plate with butter or margarine.
Form balls using your hands, two spoons, or a small scoop.
Place on the greased plate and allow to cool completely. Serve warm or cold.
Get our Top Stories delivered to your inbox
Recommended articles
DIY Recipes: How to properly steam goat meat
National Boyfriend Day: How to give your boyfriend a romantic pamper
Adina poses in stunning photos on her birthday
Body count: Stop asking your girl for it, you don't need to know
5 kitchen ingredients that you can use for pink lips
Stylish corporate workwear looks to rock this week inspired by Benedicta Gafah
5 common menstrual disorders women experience
How to battle sexual temptations and stay faithful
S*x: How long should you wait before having another round?