DIY Recipes: How to make Potato frittata
Potato frittata is a meal made mainly with eggs, potatoes, cheese and a few spices, fried and then baked in the oven.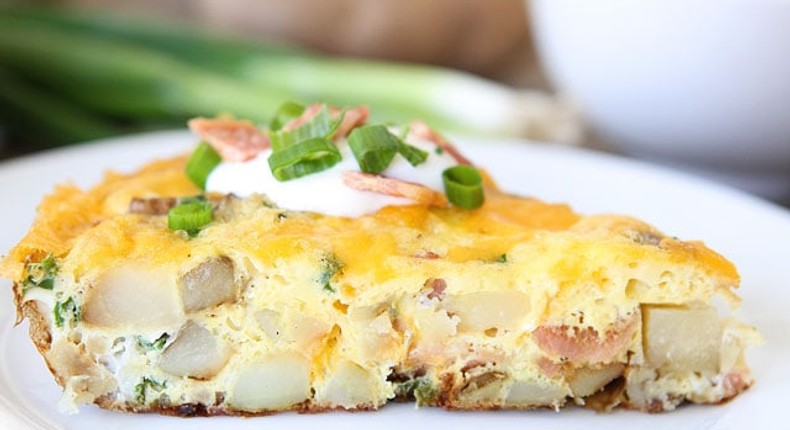 It can be eaten for breakfast, lunch or dinner.
2 tablespoons of olive oil
200 grams of cheddar cheese (grated)
500 grams of potatoes (peeled)
Powdered pepper (to taste)
Cook the potatoes in a saucepan with a little salt and water. Cook till it becomes soft and drain water away with a colander. Wait for it to cool down and slice the potatoes with a knife. Set aside.
Preheat oven at 180 degree celcius.
Whisk or beat eggs and milk in a large bowl. Add the grated cheddar to it.
Add salt and pepper to it, stir and set aside.
Heat 1 tablespoon of oil in an ovenproof pan on low heat.
Stir in the onion and garlic for about 5 minutes till it becomes soft.
Transfer it into a bowl and add them to the egg mixture. Add the potato that was set aside.
Clean the skillet and add the rest of the olive oil (1 tablespoon) to the pan.
Pour the mixture into the pan and cover with the lid. Let it cook for about 5 minutes. Slowly shake the skillet frequently.
When it is cooked on the outside, put the skillet in the oven and let it bake for about 10 minutes.
Remove it from the oven, let it cool down and serve.
JOIN OUR PULSE COMMUNITY!
Recommended articles
How to make tasty prawn crackers at home
10 female celebrities who do not show 'skin' in outfits yet stay sassy
DIY Recipes: How to make Chicken peanut stew
The best celebrity pictures on Instagram this week
Can't be Ghana: Here's what was served at Kourtney Kardashian's wedding reception
Wedding on a budget: When should you start planning your wedding?
5 best ways to treat under-eye puffiness at home
How to make crispy and creamy doughnuts in your kitchen
DIY Recipes: How to make Chicken cheese sandwich