How to make a simple Samosa
They are triangle-shaped, golden-brown fried, crispy and flaky on the outside, tasty, juicy filling and one is never enough.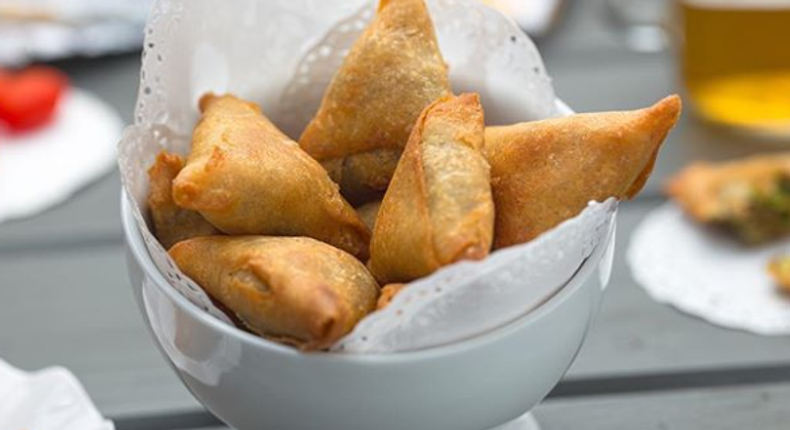 Samosa is one of the most popular snacks on the streets of Accra.
This deep-fried snack is something that can quench your hunger pangs and make you happy instantly.
This traditional snack recipe needs no introduction and tastes best when paired with shito.
1 potato (about 150g) finely diced
1 carrot (about 100g) finely diced
2 tsp curry powder or your spices according to taste
To make the filling, heat the oil in a frying pan, add the onion and garlic, mix in the spices and fry for 10 mins until soft. Add the vegetables, seasoning and stir well until coated. Add the stock, cover and simmer for 30 mins until cooked. Leave to cool.
To make the pastry, mix flour and salt into a bowl. Make a well in the centre, add the oil and 100ml water to make a firm dough. Knead the dough on a floured surface for 5-10 mins until smooth and roll into a ball. Cover in cling film and set aside at room temperature for 30 mins.
Divide the pastry into 12 equal pieces. Roll each piece into a ball and roll out into a circle of 15cm. Divide this circle into two equal pieces with a knife.
Brush each edge with a little water and form a cone shape around your fingers, sealing the dampened edge. Fill with 1 tbsp mixture and press the two dampened edges together to seal the top of the cone. Repeat with the remaining pastry.
Heat the oil in a large deep saucepan. Deep fry the samosas in batches for 8-10 mins until crisp and brown.
Serve
Recommended articles
Wedding guest: 6 Natalie Fort outfits that are wedding perfect
DIY Recipes: How to make Kokonte flour at home
How to break up with your partner politely before Valentine's Day
4 reasons couples should sleep naked
Measles outbreak hits the Northern region, over 70 children infected
5 health risks of excessive masturbation on your body
7 incredible health benefits of bitter kola
6 brain-boosting foods to add to your diet for sharp memory
DIY Recipes: How to make sweet potato fries