How to make soft coconut chin chin
Have you ever tried soft coconut chin chin? If not, then we've got you all sorted out in this recipe. Follow our carefully selected ingredients and have your delicious snack in a few.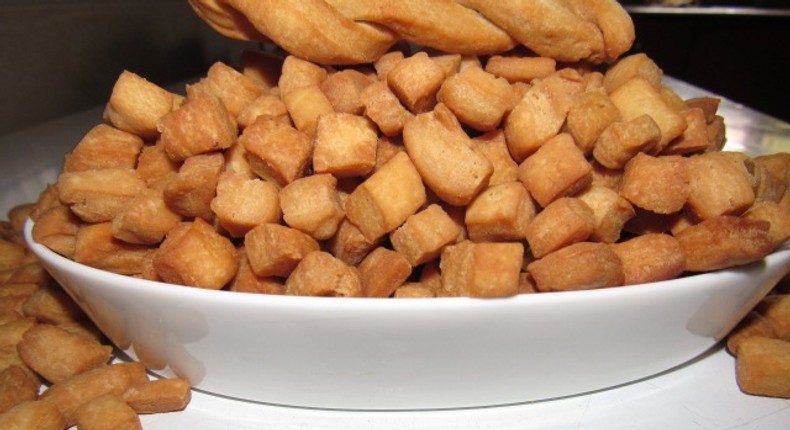 How to make soft coconut chin chin
Coconut flour is gluten-free and high in fibre. It is also a low carb substitute to flour and ideal for baking. It is also very high in good cholesterol which is good for your heart. Eating coconuts can boost your energy levels because fats contained is likely to be burned by the body as fuel. Than stored as body fat.
Coconut meat has anti-biotic properties, which makes it act like a probiotic feeding good bacteria in your tummy. Including bacteria that cause tooth decay.
If you are going to fry
For the baking option
Coconut chin chin is a very popular snack among West African countries. In Ghana its fondled referred to as coconut "chips". Ideal for the boarding house, work, pickings and as a welcome gesture for your visitors. Ghanaians love their food, in fact it's one of the things that keeps us bonded. Especially our street foods like kelewele, "kofi brokeman" etc.
Snacks in itself is very important. Snacking on healthy snacks such as coconut chin chin can aid in weight loss or weight management. Those on a low-carb or ketogenic diet may use coconut/almond flour instead of the regular flour.
This recipe is the best recipe for soft chin chin which melts in your mouth.
Get our Top Stories delivered to your inbox
Recommended articles
Pull out: Things to know if you're using this method as birth control
Cornflakes: Here are 5 side effects of consuming this food excessively
4 foods that make your butt bigger naturally
DIY Recipes: How to make Sausage salad
The best celebrity pictures on Instagram this week
Hair extensions may pose a fire hazard
Bad date? 3 sneaky ways to escape from this uncomfortable situation
Yvonne Okoro's birthday photos prove she is peng
​Turmeric: 6 unique ways to use this ingredient