Excited mum falls flat on her face during daughter's marriage proposal (VIDEO)
The plan was for Bill to propose during a family photo but Eva was getting ready to join her family when she tripped on a rock and fell face flat into the sand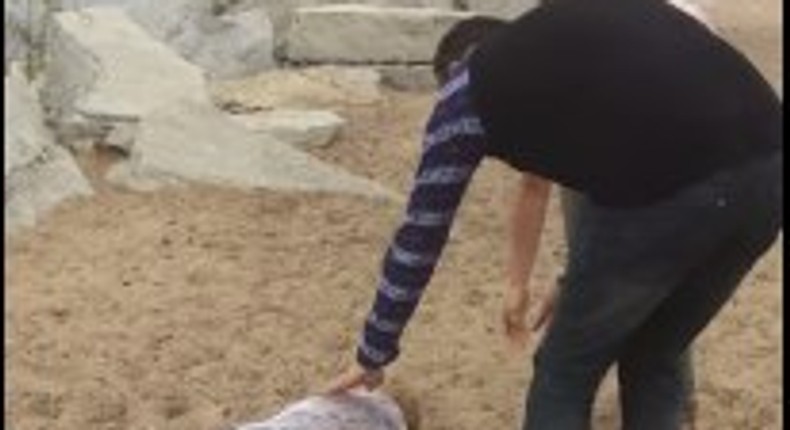 A video which recently went viral shows how awkward proposing in the presence of family members can be.
A couple- Breanne Clark and Bill Devaney from Bloomington, had an engagement they will never forget thanks to the mother of the bride-to-be.
Bill who has been in a relationship with Breanne for over seven years decided to pop the question in the presence of her family who lived in South Bend.
Everyone except for Breanne and her mum, Eva Clark knew of Bill's proposal plan.
The plan was for Bill to propose during a family photo but Eva was getting ready to join her family when she tripped on a rock and fell face flat into the sand.
Breanne says she was concerned about her mom for a few seconds before realizing she wasn't injured and started laughing hysterically. In fact, Eva couldn't get up because she was also laughing hard.
At that point, Bill already had the ring out, so he decided to move forward and propose to his girlfriend.
Speaking on the incident Breanne said, "My family is a fun and wild bunch, and although this engagement was a mess, it is 100% us and I wouldn't change it for anything."
Breanne and Bill plan to get married on June 11, 2016 in Bloomington.
JOIN OUR PULSE COMMUNITY!
Recommended articles
4 common mistakes that lead to boredom in a relationship
Jackie Appiah sets the fashion world ablaze with elegant birthday photos
Diana Hamilton radiates beauty and style in stunning 43rd birthday photos
How does sex change after cheating?
5 lesser-known erogenous zones for men
Skincare secrets: How to clean your makeup properly
Best celebrity pictures on Instagram this week
Here's what to do when a guy won't take no for an answer
DIY Recipes: How to make Peanut butter cookies