6 Nigerian lawmakers injured, cars damaged after armed thugs invaded guest house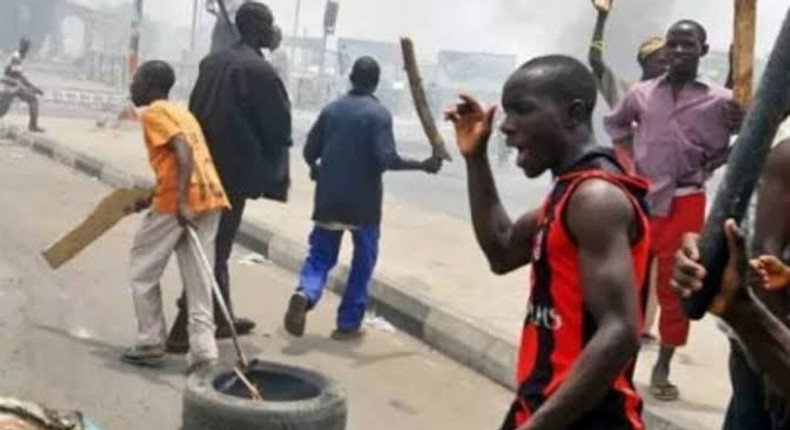 According to the News Agency of Nigeria (NAN), the incident occurred on Monday, July 4, taking the lawmakers by surprise.
The latest incident comes after 22 members passed a vote of no confidence on the Speaker, Abubakar Suleiman, and principal officers of the assembly a couple of days ago.
It is reported that the lawmakers were locked up in a meeting to devise means to address the leadership crisis that the vote of no confidence has plagued the assembly with.
The Majority Leader of the House, Babale Abubakar, reportedly told journalists on Monday in Bauchi that the attack happened at about 4 p.m.
"At least six vehicles were destroyed by the invaders who also smashed window glasses.
"They were over 100 and were carrying guns, sticks and machetes.
"It was terrifying. Some of us ran towards the exit door and were badly hurt," he lamented.
Babale Abubakar further disclosed that one of the assailants even held him by his neck and questioned his status in the assembly, threatening to kill him.
"He said they were ready to kill me. Six members were injured in the process. Some were taken to the hospital and l believe they would be fine.
"It was a scary situation. It is sad," he cried.
He added that the incident took place soon after the Special Adviser on State and National Assembly Liaison to the state governor, Sani Mohammed Burra, left the assembly.
On Friday, July 1, 22 members of the Bauchi State House of Assembly passed a vote of no confidence on the principal officers of the House for ineptitude.
The 22 members, led by the Deputy Majority Leader, Baballe Abubakar Dambam, representing Dambam/Dagauda/Jalam Constituency, declared that the leadership of the House had failed in its responsibility to the members.
The aggrieved members called on the leadership to voluntarily resign from office or be impeached.
JOIN OUR PULSE COMMUNITY!
Recommended articles
Ghanaian mother burns 4-year-old daughter in hot water over missing sandals
I'll kill patients – Nursing student threatens, saying parents forced her (video)
Zoomlion has nothing to do with our vehicle towing initiative – GPRTU
SHS teacher, 4 others arrested for farming weed in forest reserve
Replacing dead police officer with relative is equal to Trokosi system - Man tells IGP
Damaged but repaired gas cylinders can kill you; stop buying - Fire Service warns
Farmer chops off his scrotum while dreaming that he was cutting meat
Over 200 wooden structures destroyed after fire outbreak at Adjiringanor
"Don't greet while going to toilet" – 7 superstitions parents scare kids with