Drunkards Association warns of job losses if high alcohol prices make them stop drinking
Ghana Drunkards Association has lamented the astronomical hike in the prices of locally-brewed gin, Akpeteshie and other alcoholic beverages, saying the situation might lead to high unemployment if its members stop drinking.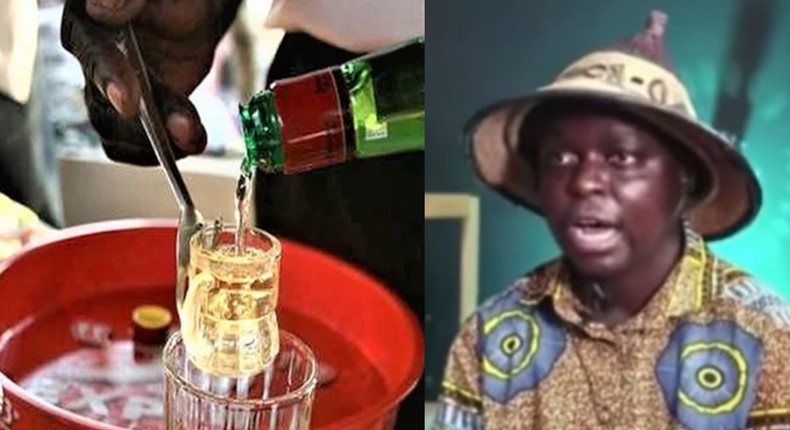 President of the association Moses Onyah, popularly known as Drybone spoke to TV3's Berla Mundi on the Day Show.
"This is one tot of unadulterated akpeteshie, normally it used to be 50 pesewas, but it's now Ghc2.00," Moses Drybone cried said, as quoted by 3news.com. "Some of the bitters cure malaria. If people stop drinking, there will be a lot of unemployment in this country."
He went further to allege that some of the local alcoholic beverages have medicinal benefits for consumers, a claim that has not been medically proven.
"Moderate drinking is very healthy because it helps your health, especially for people with kidney disorders. One bottle of beer per week helps the kidney," Drybone alleged.
Prices of goods and services have skyrocketed in Ghana due to the current economic crisis, and alcoholic beverages have not been left out.
Traders and other service providers have attributed the hike in prices of goods and services to high inflation, fuel prices, depreciation of the Ghana cedi and many others as the factors that have influenced the price hikes which some analysts have referred to as galloping inflation.
Recommended articles
University of Ghana's 15% academic user fees legal — Dr. Domfe
40 NPP MPs accompany Bawumia to Kpembi by bus for late Jawula's funeral
Fuel prices to drop due to gold for oil deal — NPA to Ghanaians
Veterinary doctor and his team 'fly' as sedated lion suddenly wakes up (video)
Ghana's current economic mess affecting NPP's campaign message for 2024 – Kyeremanten
Asantehene celebrates 1st Akwasidae in 2023
Yagbonwura Tuntumba Boresa I is dead
Jomoro MP, constituents demand justice for West Hills Mall killing
Increase taxes on sugar-sweetening beverages, cigarettes, and alcohol – Govt told