Stay away from sex if you want to stay younger - Ebo Taylor advises Ghanaians (video)
Ghanaian music legend, Ebo Taylor, has dispelled claims that having sex regularly tends to make people look younger than their age.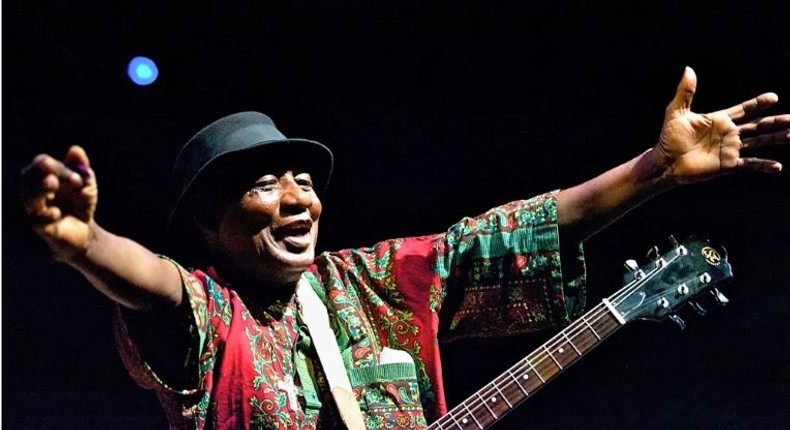 According to the 86-year-old guitarist, anyone who intends to look younger should rather stay away from sex to achieve that.
He said this in an interview with Giovani Caleb on 3FMDrive, causing the host to cringe.
"If you want to stay younger, you should rather stay away from sex," he said when asked if sex was one of the activities he engaged in to stay fit and younger.
Contrary to some research and a long-held perception that having sex regularly can make people stay younger and hardly have wrinkles on their skin, Ebo Taylor holds a different view.
It is said that regular sexual activity can lead to less cortisol, which results in less breakdown of collagen and elastin, leading to fewer wrinkles, Barr adds. One study on over 3,500 men and women even found those who had sex three times a week appeared seven to 12 years younger than their actual age.
Over the years, Ebo Taylor has churned out several songs, including Eye Nyam Nam 'A' Mensuro, Heaven, Ayesama, Saana, My Love and Music, and Will You Promise.
He is one of the few revered living legends in the Ghanaian entertainment industry.
Get our Top Stories delivered to your inbox
Recommended articles
The so-called fight against galamsey by the Akufo-Addo/Bawumia government is a scam – NDC
The Ghana Live story: Fastest growing media house celebrates 3rd anniversary
5 reasons why this year's Christmas will be dry in Ghana
I can't accuse Wontumi of galamsey because I don't have any evidence - Ogyeahohoo Yaw Gyebi II
Man who abused 3-year-old child mercilessly in viral video arrested
Dam spillage: Flooding in Weija is a warning to encroachers on waterways — GWCL
You're giving us headache; what's stopping you from resigning? -Kpebu asks Akufo-Addo
Akufo-Addo must resign; he's shown incompetence on galamsey - Martin Kpebu
Security man arrested for resigning after stealing money from church's offering vault