Bawumia was booed for naming non-existent projects — Hogbetsotso Committee member
Agbotadua Kumasah, a member of the Hogbetsotso Planning Committee has indicated that Vice President Dr. Mahamudu Bawumia was booed at the festival at Anloga in the Volta Region on Saturday, November 5, 2022, because he mentioned non-existent projects chalked by the government.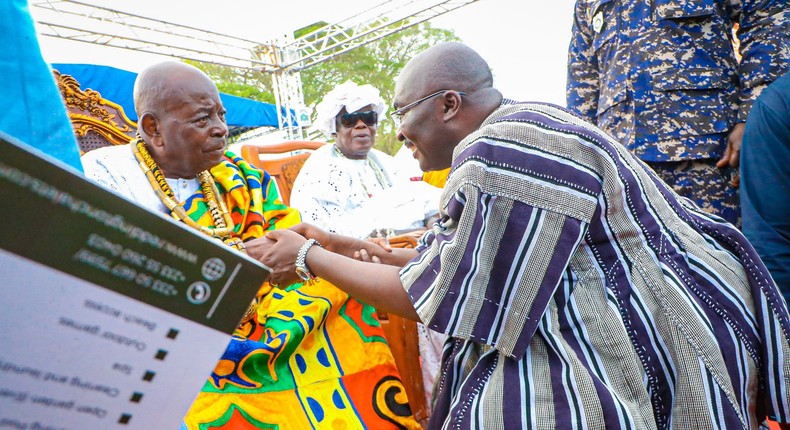 Dr. Bawumia was booed at the Hogbetsotso festival as a sign of disapproval of some projects he mentioned.
According to him, the NPP-led government under President Nana Addo Dankwa Akufo-Addo has created more jobs than any other government in the Fourth Republic.
He said the government has also built more schools, interchanges, airports, and harbours than any other government.
However, Kumasah speaking to JoyNews explained that the citizens were cautioned against "embarrassing any invited dignitary" prior to the entry of Dr. Bawumia and his entourage.
He said the crowd spiraled out of control when the Vice President began listing some non-existent achievements chalked by the NPP government.
"When the Asantehene and Kwahumahene spoke, people applauded them. When he [Bawumia] started speaking, he talked about the unity between the Anlos and the Asanteman. And the people were enjoying and even clapping for him. But when he mentioned the economic situation that is when the trouble started," he stated.
Kumasah said Dr. Bawumia mentioned among projects the government has built including airports and roads than any other government adding that "the people who were there did not see the roads, airports, and universities he was referring to so that brought some agitation and it became very difficult to control the people because none of what he was saying happened in the area."
Recommended articles
Church of England launches project to stop referring to God as 'He', 'Him' and 'Our Father'
Ken Ofori-Atta should be chased out of office by the military – Yaw Tano
Enchi constituency: 14 persons arrested in connection with disturbances at NPP elections
University of Ghana converts plastic waste to petrol, diesel and gas
Police pushed cannabis into his throat in our absence - Shadrach's sister alleges
Ablakwa vs Kusi Boateng: NDC condemns judicial abuse and despicable efforts to gag MPs
Meet Alphonsus Adu-Bredu an NSMQ alumnus developing wild robots
You are not a preacher, you are a witchdoctor – Prophet Oduro slams Kyiri Abosom
GH₵50m worth of cannabis destroyed by NACOC