GLC will be compelled to withdraw recognition of some institutions offering LL.B – Chief Justice
Chief Justice, Justice Anin Yeboah has stated that the General Legal Council (GLC) will be compelled to withdraw its recognition of some institutions that offer Bachelor of Laws.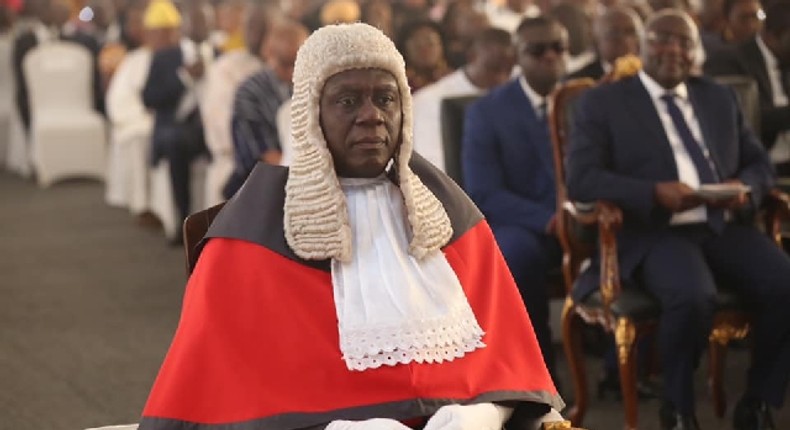 In his statement, this is to improve the professional standards of the faculty.
Justice Anin Yeboah, as chairman of the GLC, speaking at the graduation ceremony of lawyers called to the bar on Friday, Nov 11, charged the new lawyers to uphold and defend the virtue of the profession.
"In the view to uphold the sanctity of this profession and improve standards, the General Legal Council by the powers conferred on it by Parliament under Act 32 will be compelled to withdraw the recognition of some institutions offering the LL.B program that lack the necessary lecturers, infrastructure."
"It is only a way to check professional mediocrity. Not from the root, but the branches. The last time we went on an inspection of these faculties, we received disturbing reports."
He views this as a step in the right direction to check the professionalism of the program.
The general position of Ghana's law is that the GLC is the primary institution that regulates legal education in Ghana.
Meanwhile, Over 80 students who passed their Part Two Professional Law Course graduated on Friday.
However, one candidate, whose name is withheld who passed her exams and was to be called to the bar fell off along the line, as she is reported to have received a letter from the GLC informing her of her suspension due to a complaint to the effect that she had been seen in videos engaging in "conduct unbecoming of an applicant who is to be called to the bar."
Recommended articles
Your investigation will make my job better - Education Minister thanks The Fourth Estate
Police arrest 8 people over Computerized School Selection and Placement System fraud
'I'll let you come and help' - Kyiri Abosom tells church ladies as he announces divorce (video)
China and Sneda mall managers arrested for not paying tax
Nana Addo sacked Charlotte Osei over flimsy and contrived reasons — Mahama
Nigerian LGBT rights activist being installed chief in Ghana falls off palanquin (video)
Unemployment in Africa to worsen by 2030 if not addressed — Mahama
Don't give up on Ghana, NDC will rebuild it – Mahama assures
Research: NPP delegates prefer Dr. Bawumia to Alan Kyeremanten as flagbearer