Govt spent GHS142 million on National Cathedral in 2021 – Auditor General's report
The 2021 Auditor General's report has been dominating media headlines this week with the voluminous misappropriation of funds in government and state institutions.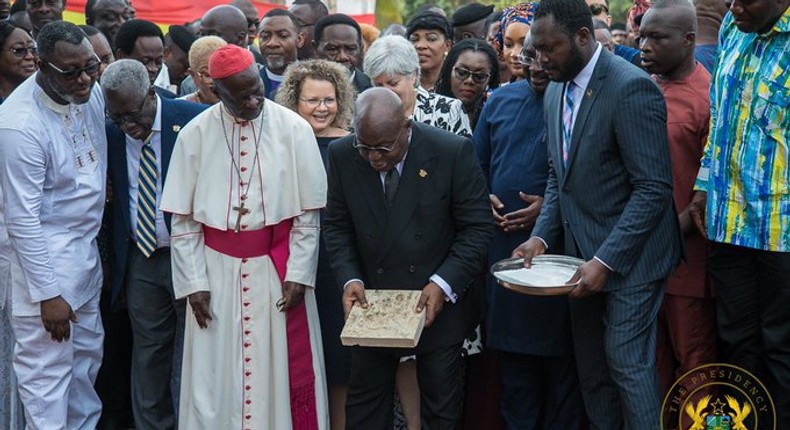 Included in the report is spending on the National Cathedral by the government in 2021.
According to the Auditor General, the Ministry of Finance disbursed a whopping GH¢142,762,500 on the controversial project as of December 2021.
The National Cathedral was captured under the government's priority programmes and interventions for the said year.
In all, initiatives under that category cost a total of GH¢9,197 million during the 2021 financial year.
Earlier this week, Executive Director of the Cathedral, Dr Paul Opoku-Mensah said the project has stalled due to the lack of funds.
"We have the contractors and their staff on site, but the work has been suspended. We are hoping that within the next couple of weeks, as part of our fundraising and other initiatives we can begin work again," he stated.
According to him, "our ability to complete this work keenly depends on Ghanaians supporting it."
Recently, the General Superintendent of the Assemblies of God Church, Reverend Professor Paul Frimpong-Manso, has urged Christians to contribute to the construction of the project.
Rev. Frimpong-Manso said "If we think that the best belongs to the Lord, do they want us to build the cathedral in a certain corner?
"Please the 70% Christians, let us be fair and take the opportunity and contribute. It is doable if everyone will pay Ghc100 a month or less…"
Meanwhile, President Nana Addo Dankwa Akufo-Addo has pledged to use the funds raised for the construction of the National Cathedral wisely.
He said the funds raised for the National Cathedral will be treated with sacred trust, and transparency adding that the government will be accountable to Ghanaians.
Get our Top Stories delivered to your inbox
Recommended articles
Korle Bu on high alert as Covid-19 infection increases among staff and patients
19-year-old man dies after being shot while intervening in parents' quarrel
Extend SIM card registration – Kofi Akpaloo pleads
Heckling of Nana Addo was a reflection of the mood of Ghanaian youth — NDC
Court denies Aisha Huang, 3 others bail for the second time
Newly-married man sets himself ablaze, blames wife's abuse and curses
Man who's kept arm upward for 10 years says he wants his god to notice him (video)
157 foreign-trained Ghanaian doctors failed MDC's licence examination in 2019
Election 2024: Vote for illiterates if the literates have failed — Prophet Kumchacha