Hunger is killing us – NABCO trainees cry for help
Trainees of the Nation Builders' Corps (NABCo) have called on the New Patriotic Party (NPP) government to end their suffering.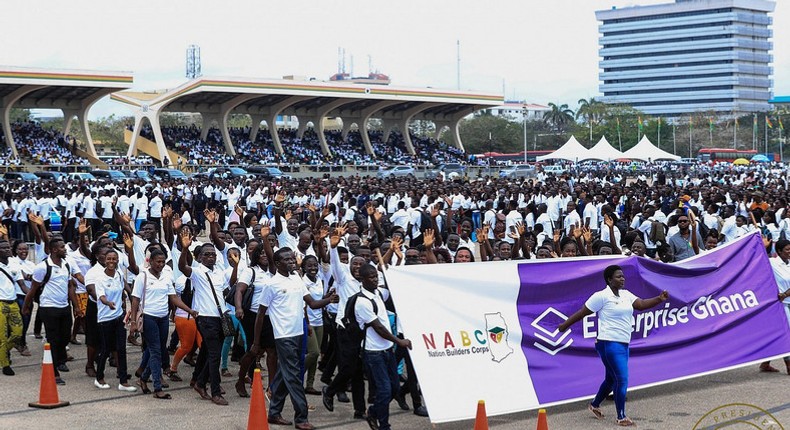 According to the NABCO Trainees Association of Ghana, they are dying of hunger due to their unpaid allowances.
The trainees, who have not been paid their allowances in the last couple of months, say due to their current situation, they may not be alive to see the country's economy bounce back.
In a statement issued by the Association in Accra, they said: "We have been plunged into a point of no hope as the government has turned deaf ears to the pressing issues."
"We are asking the government this simple question: although we have been told of the soon-to-come arrears/permanent arrangement, until when?" the statement continued.
It added: "We are dying of hunger and may not live to see the economy bounce back, due to non-payment of seven (7) months arrears."
In a recent interview, the Minister of Interior, Ambrose Dery said the introduction of the e-levy will help government pay the NABCO trainees.
Speaking at a town hall meeting held in Wa in the Upper West Region, on Monday, February 21, 2022, Ambrose Dery urged Ghanaians to accept the controversial E-Levy than going to the International Monetary Fund (IMF) for a loan.
"The most offensive one is that we should go to IMF. We went to IMF before. What was the result? High youth unemployment," he stated.
"One of the reasons we are collecting this tax is to provide our boys and girls, sons and daughters, with employment and you say we shouldn't collect it?" he quizzed.
The Interior Minister who doubles as the Member of Parliament for the Nandom Constituency indicated that the country having unpaid trainees of the Nation Builders Corps (NaBCo) is better than having a host of unemployed graduates in the country adding that the E-levy will create jobs for the youth.
JOIN OUR PULSE COMMUNITY!
Recommended articles
CEO Pryme supports East Legon fire victims
VIDEO: New Juaben Traditional Council Installs Nana Kwaku Boateng III As Paramount Chief
Thief forced to eat a full bunch of unripe plantains (video)
We fought to make Akufo-Addo President, but we're hungry – Machoman cries (video)
Your Arise Ghana demo cannot go beyond 4pm – High Court directs
"Delay isn't denial" - Woman starts studying law in 2011, finally makes it in 2022
Ghana Drunkards Association launches E-Drink app to save members' lives (video)
Conflict of interest scandal hits Akufo-Addo's government, Deputy Sanitation Minister fingered
Akufo-Addo has received over ¢500billion in grants yet he has nothing to show for it – Sammy Gyamfi