As they grow up, AIDS orphans confront crime, HIV
"Grandmothers are being robbed and raped on pension day. The fathers who once structured the boys and helped them grow up are not there," she told the Thomson Reuters Foundation.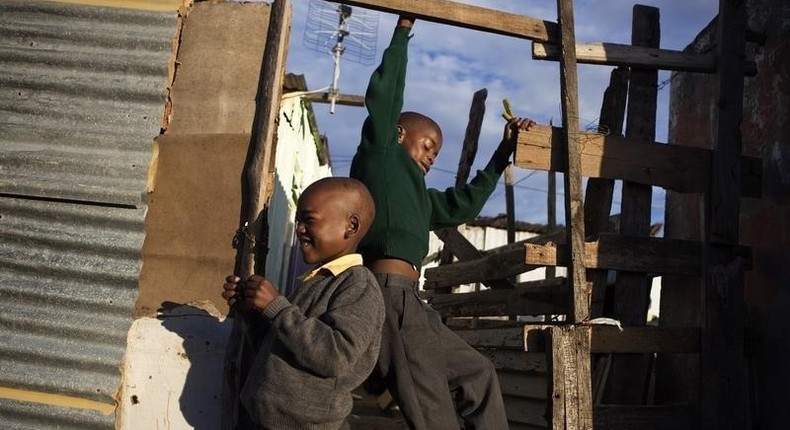 Mpume Shezi was a baby when her parents died of AIDS.
For the past 10 years, her grandmother has watched over her, her older sister and eight orphan cousins in a collection of mud-and-daub huts clinging to a windswept hillside in Qudeni, a remote village in South Africa's eastern KwaZulu-Natal province.
The struggle to feed and clothe 10 people for a decade on an old-age pension - about $100 a month – is evident from Mpume's ancient pink rubber shoes which no longer have soles.
"The hardest thing is when we run out of food that granny has bought and when we run out of clothes and granny cannot even get any from neighbours, and we have nothing," the 10-year-old said softly, her hands clasped on her threadbare yellow skirt.
Hunger and poverty are just some of the threats facing the AIDS orphans of Qudeni, a village that, like thousands of other villages in South Africa, is struggling not just with the virus but the aftermath of a generation of parents lost to AIDS.
The social fallout from a disease that has left an estimated 2.3 million South African children to be raised without parents is proving particularly hard to manage, experts say.
South Africa has the world's biggest AIDS epidemic. About 6.3 million people of its 53 million population are HIV-positive, nearly 20 percent of the adult population, according to U.N. AIDS. Millions have died since the epidemic began.
But work to tackle the virus has made huge progress.
Since 2010, annual deaths from the disease – once as high as a third of a million people a year – have fallen by more than a third as drug treatment improves.
Weekend traffic jams of families headed to funerals – once a normal part of life in places like Soweto - have ended.
Treatment, not so long ago costly, complex and hard to access, is much simpler: one pill a day, free through government health services for those sick enough for treatment. Today 2.7 million people are taking the drugs, according to U.N. AIDS.
"It's been a remarkable turnaround," said Brian Brink, the former chief medical officer for mining group Anglo American and one of the earliest advocates for broad AIDS treatment in South Africa, after successes in the company's own programme.
Now HIV "is like a disability you can get around. The ability to manage the epidemic is extraordinary", he said.
CRIME - AND NEW INFECTIONS
However the plight of the generation left behind has drawn less attention, as medical successes fill the headlines.
In communities around Qudeni, as a generation of orphans reach their teenage years, crimes like robbery and rape are being reported with worrying regularity, resident say.
"The problems are getting worse and worse," said Eunice Khanyile, who runs a government-funded soup kitchen in Qudeni.
Themba Mchunu, Qudeni's traditional leader, agrees those committing crimes "are the ones who mainly never had parents".
Many orphan teenage girls, looking for love and financial support, are turning to relationships with older men, getting pregnant, dropping out of school and finding themselves HIV positive, school, health and community officials say.
In South Africa, just 4 percent of boys and young men 15 to 24 years old carry the virus that causes AIDS. Among girls the same age, the rate is 13 percent, according to Southern African Development Community (SADC) figures.
AIDS is the number one cause of death among adolescents in Africa with 7 in every 10 new infections in sub-Saharan Africa among girls aged 15-19, according to UNICEF.
"Without parents, these girls have no stability. When men come and say nice things to them, they easily go with them," said Nhalani Helngiwe Dlamini, a community development worker.
Zitha Shelembe, principal at Bhuqwini Secondary School in Qudeni, said there was "a lasting psychological impact" from AIDS deaths among parents.
"(Teenagers) are discovering who they are, and at that stage they are confused and vulnerable," he said.
"If they have to, they will go outside the family to find a shoulder to cry on. They trust that person and they should not."
Teenagers in Qudeni – like young people everywhere – dream big, of college and good jobs. Many say they want to become doctors who work in Qudeni to help quash AIDS for good.
"If I can study and be a doctor, I want to come back right here," said Mpume. "The greatest thing I could see is bringing money to my granny to take care of the rest of the family."
Dlamini, the social worker whose home looks out on Mpume's grandmother's scattering of huts - which lie more than 20 km (12 miles) from even the nearest paved road - isn't so sure about the girl's ambitions.
"Life in this household is not promising," she said. "As these girls grow, boys will come around and mess up their lives even further. When girls grow up this way, they end up finding comfort in men."
How often that search for comfort goes wrong is evident at the neat, red-brick health clinic in Qudeni.
HIV counsellor Siridisiwe Sikhakhame says most of the new HIV-infected patients are girls in their teens or early 20s
"Mostly they are pregnant when they come in. When you ask them how they got it, they say, 'My boyfriend has other girlfriends'," she said.
In an effort to address South Africa's high HIV transmission rate among girls, a variety of programmes are experimenting with setting up cash transfers to girls to give them a source of income and reduce the temptation to turn to an older boyfriend.
One, based in KwaZulu Natal province, offers girls cash to stay in school, pass their exams and undergo regular HIV tests.
Another programme in Khayelitsha, an informal township in Cape Town, offers free soccer coaching and teams for teenage girls and boys, with coaching in "life skills" – like avoiding HIV – included as well, Brink said.
While the efforts are still in early stages, their backers hope they will be able to curb HIV infections and help meet a U.S.-backed goal to reduce HIV incidence among girls and young women by 40 percent in hard-hit parts of 10 sub-Saharan African countries by the end of 2017.
"As a society we have to do better," Brink said. The infection rate now "is unconscionable. We have to be serious and find ways to get the new infection rate to zero."
JOIN OUR PULSE COMMUNITY!
Recommended articles
Man from Benin balances 735 eggs on his head to enter Guinness World Records (video)
'God told me he created my transgender son in his image' - mother of Angel Maxine (WATCH)
"I'm very sorry mum & dad" – Ghanaian lady caught on camera 'serving' blowjob in nightclub
How to orgasm together, here are 5 tips for couples
Vaginal massage: Here's your ultimate guide and why it's good for your sex life
Man gets weak & vomits after tasting friend's drink & food he denied poisoning (video)
California bans condom removal during sex, here's why
'He promised me a house and failed to deliver' – Spiritualist claims he caused Essien's 'downfall'
'Take me back to psychiatric hospital' - Funny Face cries in new video over broken heart