Melcom staff helps fight fire outbreak with extinguishers from their shop
Two vehicles met in an accident and burst into flames on the Achimota road on Saturday, May 23, 2020.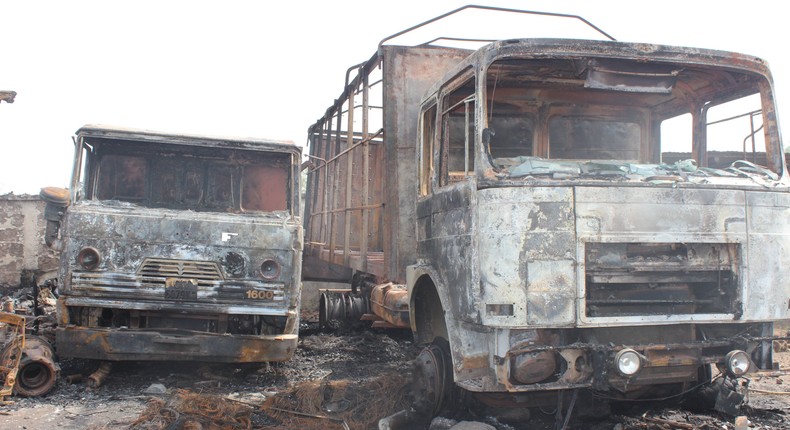 There was a rush to safety as there was no means to stop the fire.
The Melcom crisis management team at the Melcom Achimota store situated closed to accident site immediately swung into action.
They informed the fire department and they rushed to the scene with fire extinguishers from Melcom Achimota to help extinguish the fire.
They were assisted by the MTTD personnel who was on duty at the time alongside drivers and other passers-by.
Despite all efforts, one of the vehicles that were involved in the crash was, however, burnt to ashes.
The intervention by the Melcom staff and people at the scene helped halt the spread of the fire on the busy road, saving one of the cars loaded with charcoal.
According to an eyewitness, no casualties were recorded aside from the loss of property.
Melcom conducts fire training for all its staff in all locations in association with the Ghana Fire service every year.
Recommended articles
Church of England launches project to stop referring to God as 'He', 'Him' and 'Our Father'
Ken Ofori-Atta should be chased out of office by the military – Yaw Tano
Enchi constituency: 14 persons arrested in connection with disturbances at NPP elections
University of Ghana converts plastic waste to petrol, diesel and gas
Police pushed cannabis into his throat in our absence - Shadrach's sister alleges
Ablakwa vs Kusi Boateng: NDC condemns judicial abuse and despicable efforts to gag MPs
Meet Alphonsus Adu-Bredu an NSMQ alumnus developing wild robots
You are not a preacher, you are a witchdoctor – Prophet Oduro slams Kyiri Abosom
GH₵50m worth of cannabis destroyed by NACOC