Social media hails Bawumia after traveling on a commercial flight to Tamale
Vice President, Dr. Mahamudu Bawumia, has proven himself as not just incorruptible but unassuming as well after being spotted aboard a commercial airplane traveling from Accra to Tamale.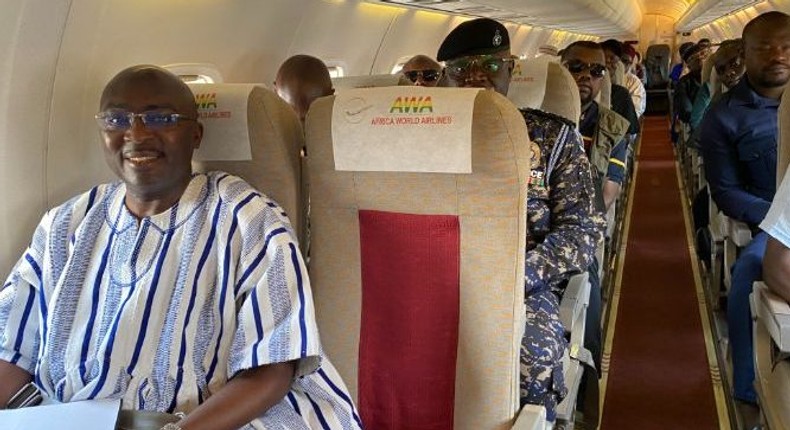 The Vice President joined Africa World Airlines' Embraer 145 plane flying Accra-Tamale on Saturday, November 26th, 2022.
Award-winning Ghanaian journalist, Manasseh Azure Awuni, spotted the Veep on the plane and recounted the chance meeting online in admiration at the Vice President's gesture.
Sharing a photo of Bawumia, seated alone on a double seat with his security aide behind him, Manasseh said: "This morning, those of us on board Africa World's Embraer 145 commercial flight to Tamale was joined by an unexpected passenger.
"I don't know how often it happens, but this is the first time I have heard or seen Ghana's president or vice president on a local commercial flight," the post added.
In Ghana, public officials traveling in massive convoys of V8s are common, and even for flights, it is highly uncommon to travel on non-descript commercial flights as Bawumia just did.
Hence, Manasseh's post sparked a heavy online debate, with many praising the Vice President for his action which saves the nation money.
"Keep this up Dr. B," a social media user reacted.
Others, however, were of the view that there is nothing extraordinary about his action, considering it is a matter of routine for public officials to travel in such a manner in other countries around the world.
Recommended articles
Your investigation will make my job better - Education Minister thanks The Fourth Estate
Police arrest 8 people over Computerized School Selection and Placement System fraud
'I'll let you come and help' - Kyiri Abosom tells church ladies as he announces divorce (video)
China and Sneda mall managers arrested for not paying tax
Nana Addo sacked Charlotte Osei over flimsy and contrived reasons — Mahama
Nigerian LGBT rights activist being installed chief in Ghana falls off palanquin (video)
Unemployment in Africa to worsen by 2030 if not addressed — Mahama
Don't give up on Ghana, NDC will rebuild it – Mahama assures
Research: NPP delegates prefer Dr. Bawumia to Alan Kyeremanten as flagbearer