Today's Front Pages
Here are today's newspaper headlines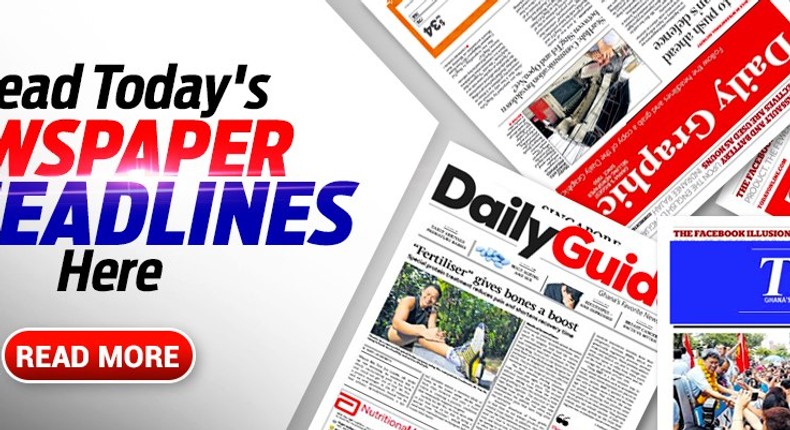 POLICE, CAR DEALERS IN BIG FIGHT OVER UNREGISTERED VEHICLES
There is controversy between the Vehicle and Asset Dealers Association of Ghana (VADAG) and the police over the recent exercise to impound vehicles with DV and DP trade plates belonging to members of the association.
KUDALOR NEW IGP, SARPONG NEW HEAD OF IMMIGRATION
President John Mahama has appointed the Commissioner of Police (COP) on charge of Operations, John Kudalor, as acting Inspector General of Police (IGP). Official sources said the President has also appointed Felix Sarpong, the Deputy Director of Operations of the Ghana Immigration Service (GIS) to act as the Director of Immigration.
AFOKO PETITIONS NATIONAL COUNCIL OF NPP
Embattles National Chairman of the New Patriotic Party, Paul Afoko on Monday petitioned the National Council of the party against constitutional breaches that led to what he described as the usurpation of his post.
AMIDU PUNCHES ANAS OVER JUDICIAL EXPOSÉ
The latest investigative work by Anas Aremeyaw Anas into alleged corruption in the Judiciary has triggered a battle of words between him and a former Attorney-General and Minister of Justice, Martin Amidu.
NPP CHAIRMAN ARRESTED OVER MURDER
The Ashanti Regional Police Command has arrested the Asawase Constituency Chairman of the New Patriotic Party (NPP), Isaac Brenya and several others in connection with the murder of Saddiq Abubakar aka Ogundi.
AMIDU FIGHTS ANAS OVER VIDEO
Former Attorney General (AG) Martin Amidu has made a sensational claim that the government is shielding corrupt politicians, especially parliamentarians.
KUDALOR TAKES OVER AS IGP
Commissioner of Police Rose Bio-Atinga has been swerved for the position of the Inspector General of Police (IGP) as President John Mahama settels on John Kudalor, the man who until his appointment was the Director General of Operations of the Ghana Police Service, to take over from Mohammed Ahmed Alhassan as the new IGP.
POWER BADGE TO 'DRINK' $9M OIL EVERY MONTH
The 225 megawatts power badge is expected to consume about 30,000 metric tonnes of Heavy Fuel Oil every month at a cost of between $7 million and $9 million, depending on the current crude oil price movements.
MIDA TO MAKE ECG CREDIBLE OFF-TAKER – CEO
Any company that succeeds in securing the concession to operate the Electricity Company of Ghana (ECG) from January 2017 will be expected to invest not less than $200 million every year.
ALL HAIL KUDALOR AS ACTING IGP
The appointment of Commissioner of Police (COP) John Kudalor as acting Inspector General of Police (IGP) has been greeted with joy by both senior and junior police officers of the service.
PRICE HIKES COULD TEST DEREGULATION
Whether by design or happenstance Ghana's petroleum price deregulation – which kicked in in July – appears to have been perfectly timed: crude oil prices have been at an all-year low and prices at the pump keep plummeting by the minute.
PEF EXPLORES NEW FINANCING SCHEME
The Private Enterprise Federation (PEF) has joined the list of several other trade unions and development organisation to explore the possibility of setting up a financing scheme to provide long term financing facilities to private enterprises in a bid to wean them off the dependence on credit from commercial banks.
JOIN OUR PULSE COMMUNITY!
Recommended articles
Government bans use of tricycles on highways
Benz driver who drifted his car in traffic arrested by Ghana Police (VIDEO)
'Akufo-Addo has deepened presidential accountability with regular radio interviews' - Adom Otchere (Watch)
Open your eyes, Akufo-Addo's record is unmatched – NPP tells Oti chief
Akufo-Addo launches 'Clean Your Frontage' campaign towards making Accra cleanest city in Africa
George Akuffo Dampare: Who is Ghana's new IGP?
Legal education can be expanded with just 10% of National Cathedral funds – Chris Ackumey
Police officers who died in car crash mourned
40-year-old man who allegedly killed his pregnant wife dies in police custody