Today's Front Pages
Here are today's edition of the newspaper headlines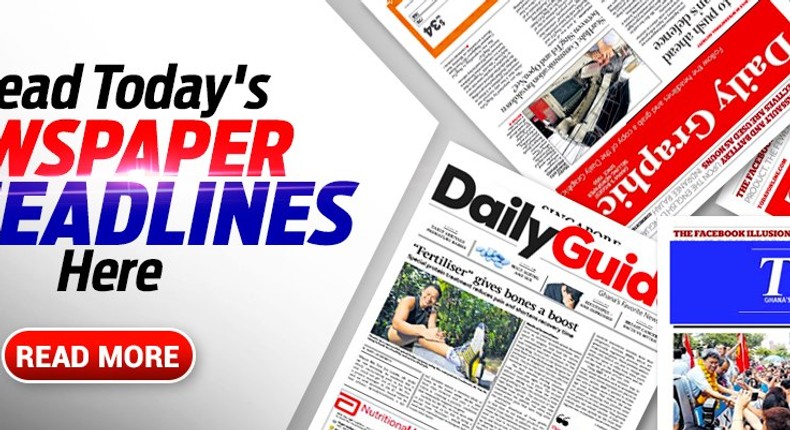 WE WON'T PAY MORE TARIFFS – TUC WARNS PURC
The Ghana Trades Union Congress (TUC) has sent a strong message to the Public Utilities Regulatory Commission (PURC) that it will not accept any astronomical increases in utility tariffs.
I NEVER CALLED FOR NEW VOTERS REGISTER IN TOGO – PREZ MAHAMA
President John Mahama has stated that as Chairman of ECOWAS he never called for a new voters register for the elections in Togo.
NPP CAN'T DISAPPOINT GHANAIANS – NANA AKUFO-ADDO
The New Patriotic Party's (NPP's) 2016 presidential candidate, Nana Addo Dakwa Akufo-Addo, has urged members of the party to work hard to enable the party to win the 2016 general elections.
NDC GOVERNMENT BLOWS $10M ON PRESIDENTIAL DIARIES
The 2016 presidential candidate of the New Patriotic Party (NPP), Nana Addo Dankwa Akufo-Addo, says he is shocked by the sheer profligate spending by the John Mahama National Democratic Congress (NDC) administration, which has doled out $10 million to print presidential diaries for the upcoming year.
Dr Zanetor Rawlings on Sunday launched her campaign, her most spectacular yet, to win the National Democratic Congress (NDC) primary for the Klottey Korley constituency scheduled to take place on November 7, all things being equal.
MAHAMA DENIES TOGO REGISTER
President John Mahama, in what political analysts believe to be a sharp U-turn, has denied claims that he called for the compilation of a new voter register for neighbouring Togo during his tenure as chairman of the Economic Community of West African States.
GHANA'S REMAINING $171.5M DEBT TO N-GAS: FEBRUARY IS NEW DEADLINE
N-Gas, the main supplier of gas to Ghana's Volta River Authority (VRA) through the West African Gas Pipeline (WAGP), has given VRA up to ending of February 2016 to clear its outstanding debt of $171.5 million.
I DIDN'T CALL FOR NEW VOTERS' REGISTER IN TOGO – MAHAMA
President John Mahama has denied ever calling for a new voters' register in Togo as being alleged by some political parties, civil society organizations (CSOs) and media houses in the country.
GOVERNMENT TO ISSUE Ȼ1.5B BOND THURSDAY
Ghana's debt will escalate further on Thursday, October 22, 2015 as the Bank of Ghana (BoG) on behalf of government will issue a three-year fixed rate bond to the tune of Ȼ1.5 billion.
TUC VOWS TO RESIST INCREASES IN UTILITY TARIFFS
The Trades Union Congress (TUC) has vowed to resist attempts by utility companies including the Volta River Authority (VRA) to obtain tariff increase at a time of poor utility services.
TMA AND ELECTORAL COMMISSION IN FIERCE STANDOFF
Assembly members of the Tema Metropolitan Assembly (TMA) on Friday had a standoff with the Metropolitan Electoral Officer, Watson Tizor Apentsui over the placement of a voting screen.
EPA WEANS OFF GOVERNMENT PAYROLL NEXT YEAR
The Environmental Protection Agency (EPA) is scheduled to be among the first state agencies to be weaned off government's subvention early next year, as efforts to cut the state's wage bill and address the current account deficit gathers momentum, BFT has gathered.
TELCOS' TAXES UNDER SCRUTINY
Chairman of the Parliamentary Select Committee, Albert Abongo says safeguarding the role played by communications technology service provider Subah Infosolutions Limited, in monitoring revenue due government from the mobile telecom operators is very crucial to national development.
SUGAR FACTORY 70% COMPLETE
Construction of the 380,000 metric tonne sugar factory at Komenda in the Western Region is about 70% complete and likely to come on-stream before the 24-month completion date, the Ministry of Trade and Industry has said.
TUC REJECTS 100% INCREASE IN UTILITY TARIFFS
The Trades Union Congress (TUC) has served notice to utility companies it will not accept a 100 percent increase in utility tariffs under the current economic conditions.
PHARMACEUTICAL COMPANIES IN TROUBLE
Ghana's plan to meet demand for pharmaceutical products through local production could face a major challenge as local firms encounter low production due to lack of capital injection.
Get our Top Stories delivered to your inbox
Recommended articles
Married woman stabs husband to death for trying to have sex with her
Sue or report me to police if I've ever extorted money from you – Anas dares critics
Police officer to face court for allegedly defiling 14-year-old girl
Akufo-Addo's govt to spend GH¢80 million on National Cathedral in 2023 – Okudzeto Ablakwa
2023 budget provides no hope for the youth – Minority
Opinion: ECG is abusing monopoly and frustrating Ghanaians
Bawumia announces landmark new policy for Ghana to use gold to buy imported oil products
Government bans use of V8s, V6s from 2023, except for cross-country travels
Ghanaians will now pay e-levy on every money transfer; no more GHC100 threshold