Bawumia can't be President on the ticket of the NPP - Dr. Nyaho-Tamakloe
Dr. Nyaho Nyaho-Tamakloe, a founding member of the New Patriotic Patriotic Party (NPP) has said that Dr. Mahamudu Bawumia will not be President in 2024.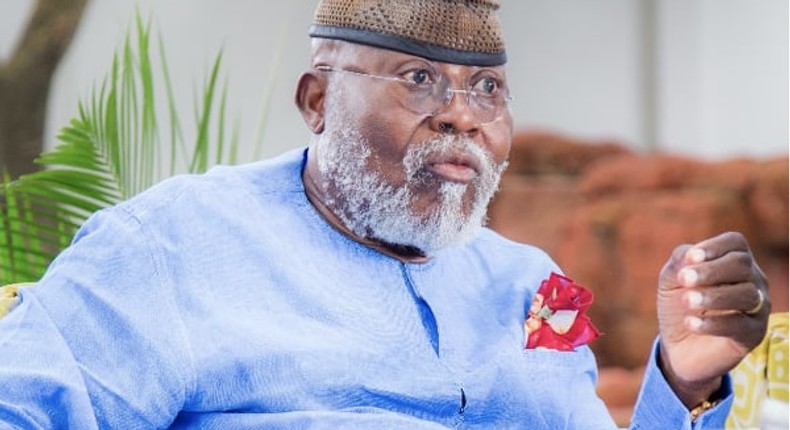 He said the Vice President cannot win on the ticket of the NPP.
Speaking in interview on TV3, he said the structures of the NPP will limit Dr. Bawumia's chances.
"I did an interview, it was with a foreign magazine, I will find out if I still have it, I will share with you, where I made plain that by the structure of our party, Bawumia cannot come to power."
"Bawumia is a fine gentlemen, if Bawumia would have had that independent mind and strength and not just always praise what the president has done or has not done, I would have looked at him differently, I know Bawumia very well."
Relatedly, former President John Agyekum Kufour has denied reports that he has endorsed Dr. Bawumia.
Vice President Dr Mahamudu Bawumia
According to him, media reportage suggesting that he had endorsed the Vice President, Dr. Mahamudu Bawumia's candidacy, against the other aspiring candidates at the recent Peduase Valley Resort Father's Day soiree had totally misconstrued what had transpired.
In a statement copied to the media, the former President said the comments he made about Dr. Bawumia is not an endorsement.
The Former President explained that when he had described the Veep as "a true son", there was nothing political about his remarks or even the occasion.
JOIN OUR PULSE COMMUNITY!
Recommended articles
Kofi Adomah Nwanwani rushed to the hospital after assassins attacked him
We've run at a loss — 'Brukina' sellers cry over low patronage
National Cathedral: Be fair to God, contribute — Rev Frimpong-Manso urges Christians
No Ghana card, no vote: NDC won't sit aloof for NPP to connive with EC — Ofosu Ampofo
Bawumia is a unifier; he doesn't discriminate - Veep's mate rubbishes propaganda
Man electrocuted to death for attempting to steal ECG cables in Kumasi
Elections 2024: We won't register citizens without Ghana card — EC warns
Car set ablaze on University of Ghana campus as Commonwealth and Sarbah students clash
Babies with sharp teeth: We have people in NPP who don't respect — Boakye Agyarko