Gunmen who attacked me will not get a penny - Asiedu Nketia
According to Asiedu Nketia, the suspected armed robbers will not get any valuables in the car but tubers of yam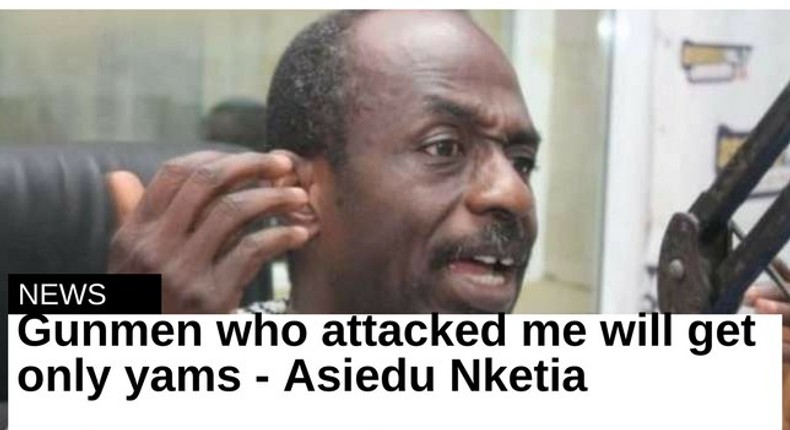 The General Secretary of the opposition National Democratic Congress (NDC), Johnson Asiedu Nketia has said the unidentified gunmen who
Johnson Asiedu Nketia said, the men, holding firearms crossed and banged on his car. He added that the masked men nearly assaulted another man in a pickup.
Attack on General Mosquito
Gunmen wielding AK47 rifles and other sophisticated weapons and wearing mask to cover their identity have attacked General Secretary of the opposition National Democratic Congress (NDC), Johnson Asiedu Nketia at Teacher Mante, near Suhum in the Eastern Region Monday afternoon.
He said the attackers who were driving a Toyota Tunda vehicle accosted him and other occupants of his vehicle and harassed them.
He said the men sped off when he brought out his camera to capture the incident.
He gave the car number as GT666-12.
Speaking on the incident in an interview on Accra-based Adom FM, he said he "had a friend army officer who was with me in the car so he got down first and identified himself and asked them what was their problem.
"I am not sure whether they are armed robbers because nobody made any attempt to rob me of my hard earned money or other valuables."
Recommended articles
Akufo-Addo makes the top 50 World Leaders Twitter Power ranking
Akufo-Addo's no hair cut comment was very irresponsible - Dr. Amoako Baah
SIM registration: Individuals without Ghana Card not blocked — Ursula
18,127 people in Central Region living with HIV — AIDS Commission
Is Christian Council happy with Ofori-Atta quoting, abusing the Bible? – Selorm Branttie asks
We can't complete all 'Agenda 111' projects by 2024 – NPP MP
Girls are now giving s*x in exchange for sanitary pads - Eco-me Africa laments
Govt's debt exchange programme unacceptable — Nurses and Midwives Association
Akufo-Addo must show courage and reshuffle some of his ministers – Kufour