Disabled man prevented from entering parliament
The group had stormed parliament on Friday to urge parliamentarians to fast-truck work on the RTI bill which was been in the house for over a decade.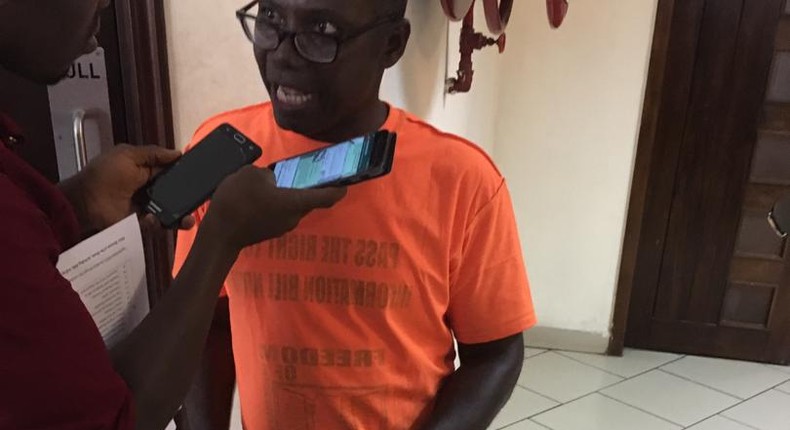 However, Alex Tetteh was denied entry into the public gallery of parliament because he cannot stand to acknowledge the Speaker of Parliament.
"Their reason is that they were asked not to allow anybody who cannot stand when the Speaker is coming or passing or is rising," Mr. Tetteh, who is the President of the Centre for the Employment of Persons with Disability, told Accra-based Citi FM.
According to him, "They said that an incident happened yesterday [Thursday], where one person could not stand and they saw that he was a person with disability and for that matter, they think that they should prevent anybody who cannot stand [from going in]."
It is unclear if the action of security at parliament was sanctioned by the leadership of the house.
Meanwhile, some MPs have decried the action of the security officers to deny the physically challenged man access to the house to observe proceedings.
Wa Central Member of Parliament, Rashiud Pelpuo, said action was "unacceptable," saying "rising for the speaker is a convention."
Kumbungu Member of Parliament, Ras Mubarak, on his part said parliament "is public premises, and indeed it is incumbent on Parliament to facilitate and ensure that we put in place the necessary measures for all Ghanaians."
He recalled raising the issues of access to parliament by physically challenged persons.
He told Citi FM: "We have a couple of our colleagues who have some difficulty in accessing the Chamber, and at least on three occasions I have raised this issue in the House that Parliament has to do something about it so that we do not encumber them, we do not create problems for them to access the Chamber. Now we can seek construction for a new Chamber block, and I am hoping that this will be taken into consideration. This should rekindle the debate about access to public buildings by our compatriots who have some amount of disability."
JOIN OUR PULSE COMMUNITY!
Recommended articles
Chief sentenced to death by hanging for ordering the killing of boy accused of wizardry
Why pay us less – Nursing training teachers begin 7-day protest (video)
Ghanaian mother burns 4-year-old daughter in hot water over missing sandals
I'll kill patients – Nursing student threatens, saying parents forced her (video)
Zoomlion has nothing to do with our vehicle towing initiative – GPRTU
SHS teacher, 4 others arrested for farming weed in forest reserve
Replacing dead police officer with relative is equal to Trokosi system - Man tells IGP
Damaged but repaired gas cylinders can kill you; stop buying - Fire Service warns
Farmer chops off his scrotum while dreaming that he was cutting meat