30-year-old commits suicide at Ashaiman
A number of people besieged the scene of the incident to catch glimpse of the body.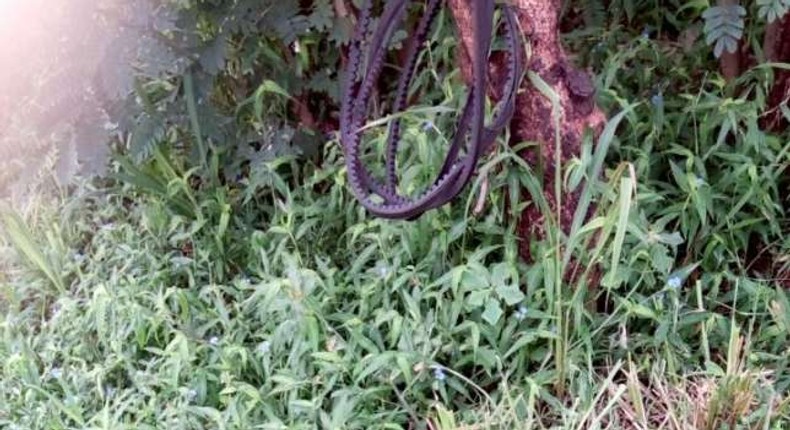 A man has allegedly committed suicide at Jericho near Ashaiman.
The man believed in his 30s, was found hanging on a tree in the area Monday morning.
An eyewitness apostle Christopher Hood said the deceased is not known by residents of the area. A number of people besieged the scene of the incident to catch glimpse of the body.
The cause of the death is not known.
Suicide cases for the past two weeks have dominated the main headlines in Ghana.
The incident brings to six the number of people who have committed suicide over the last two weeks.
A 30-year-old driver, James Ayiem, at Half-Assini in Western Region has allegedly committed suicide.
He was found hanging on a mango tree with a twine near the Presbyterian Church at Peace Town, Half-Assini around 0600 hours on Saturday.
A middle-aged man believed to be in his early 30's was also found dead near a tree with a rope on Thursday, March 9, 2017 near the Achimota main overpass.
Eyewitnesses at the scene, however, suspect it was a case of murder rather than suicide because "the rope found around the body was "too thin" and "can't be used to facilitate suicide."
Last Wednesday, a level 400 student of the University of Ghana fell to her death.
She reportedly fell from the balcony of the Akuafo Hall annex A room 407 after staying away from lectures several days.
A 16-year-old Junior High School (JHS) pupil, identified as Barbra Asante has committed suicide at Akyem Osiem in the Eastern region.
She attends the Child of Hope Preparatory School  at Akyem Osiem.
The body of Barbara was found hanging in the Kitchen of her parents at Akyem Tafo on Tuesday, March 7, after she had gone missing.
The Mental Health Authority has announced the establishment of a temporary helpline aimed at suicide prevention in the country.
The helpline for suicide prevention is 020-681-4666.
Get our Top Stories delivered to your inbox
Recommended articles
Akufo-Addo is complicit in the galamsey menace – Murtala Mohammed
Lady closely misses death while using loaded gun for TikTok video (watch)
Bereaved family clashes with mortuary officials as corpse is missing (video)
Repatriate all the illegal payments back into the Petroleum Fund – Mahama to Ofori-Atta
Ghanaians rubbish ECG's claim that system challenges have been resolved
Your performance and hard work have achieved so much for Ghana – Ya-Naa praises Bawumia
I'm not into galamsey – Chairman Wontumi responds to critics
EMY Africa Awards: Ghana's female pilot Audrey Maame Esi wins Young Achiever of the year
Bawumia's digitalisation is the future Ghana needs