Akwasi Frimpong makes the finals in IBSF Inter Continental Cup after setting personal best time (video)
Akwasi Frimpong is having a great week in Europe representing Ghana and Africa on one of the most challenging bobsleigh and skeleton ice tracks in the world.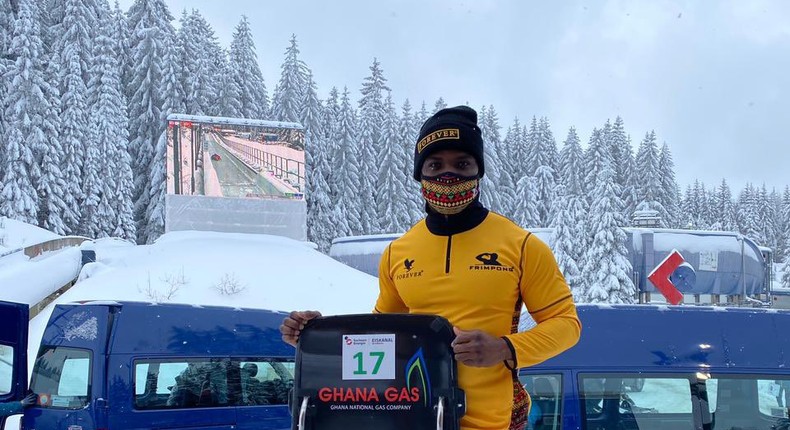 Frimpong made the finals today at the first International Bobsleigh and skeleton Federation(IBSF) Inter Continental Cup race in Altenberg, Germany.
Frimpong clocked a time of 59.89 seconds in the first heat and a time of 60.16 seconds in the second heat to finish 19th overall.
Frimpong finished 24th earlier this week during the IBSF Europa Cup race after clocking a time of 63 seconds in training and 60.99 seconds during the competition.
"I have grown a lot this week as a slider," Akwasi said.
"My wife and I talked about the Altenberg ice track and if it was smart for me to come here instead of staying in North America this season and train on tracks I already know. It was a tough decision mostly because of safety. I took on the the challenge to come and learn one of the toughest tracks in the world and I'm glad I did with the support of my pregnant wife and my 3-year-old Ashanti who I miss a lot while on tour away from home.
"I'm also very grateful for the sliding community helping me out and a special big thank you to Team Russia for working with me this season.
"I see myself growing in the sport and that's fun. I want to show that people from Africa and warm countries can also become good winter athletes. It has been difficult fighting through knee and achilles injuries and also a bad crash a couple days ago. But the goal this season is about me developing my sliding skills and that plan is working out well.
"I want to thank my partners Ghana NatIonal Gas Company, Forever Living, Murdock Hyundai and the Ghana Olympic Committee via a scholarship with IOC have all been supporting me despite the pandemic and I'm forever grateful. Without their support I wouldn't be able to learn and progress in our challenging sport.
"The ultimate goal is to qualify a spot for Ghana and Africa in Beijing 2022. It's not going to be easy. But if it was easy, everyone would be going headfirst in a minus-ten degrees Celsius".
JOIN OUR PULSE COMMUNITY!
Recommended articles
Why some people refrigerate their condoms before use
3 things you shouldn't do for a woman you are not married to
Top 10 most rewarding African countries to do business in 2023
Kofi Kinaata's mum melts hearts as she sings rapper's 'Thy Grace' word for word
Challenges mount for Nigeria's $13 billion Trans-Saharan gas pipeline amid Niger coup and financial woes
Why masturbation can be harmful for you
African borrowing costs surge in the international market as a result of attractive US rates
Prophet Nigel is being smart, who is Sherif Black? - Arnold Baidoo quizes
Mr. Drew drops hilarious subtle reaction to Kuami Eugene's claim of writing 80% of 'Case'