Flowery tales of the exploits of
It is, therefore, not surprising that Ghanaian workers in the United States of American have been adjudged as the most hardworking immigrants in the Union.
From a report on the efficiency of immigrants sighted by Pulse, Ghana tops the civilian-employment ratio index by 75,2 %.
READ ALSO: Thank Nana Addo for fixing NDC mess - NPP Vice Chairperson hopeful
The data, which was released by the U.S Census Bureau, means that more Ghanaians are gainfully employed and excelling in their different fields than any other set of immigrants in the US.
Interestingly, Africa's most populous nation Nigeria ranked 8th on the index with 71%.
The report was produced by Bloomberg's Justin Fox, a famed American financial journalist from the 2016 U.S. Census Bureau American Community Survey 2016, to counter White House Chief of Staff John Kelly's comments that most undocumented immigrants are not easily able to assimilate into the United States, into its "modern society."
Check out the ranking of the numerous countries below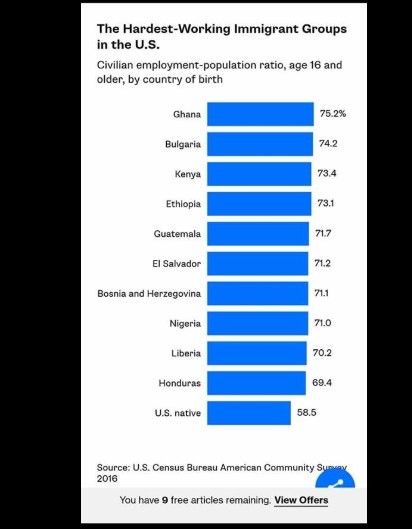 Other subjects touched by the Justin Fox's report was the educational level of immigrant groups, ability to speak English and hard work.