Brazil clinch FIFAe Nations Cup title
Brazil has been crowned as the World's Best FIFA esports Nation in 2022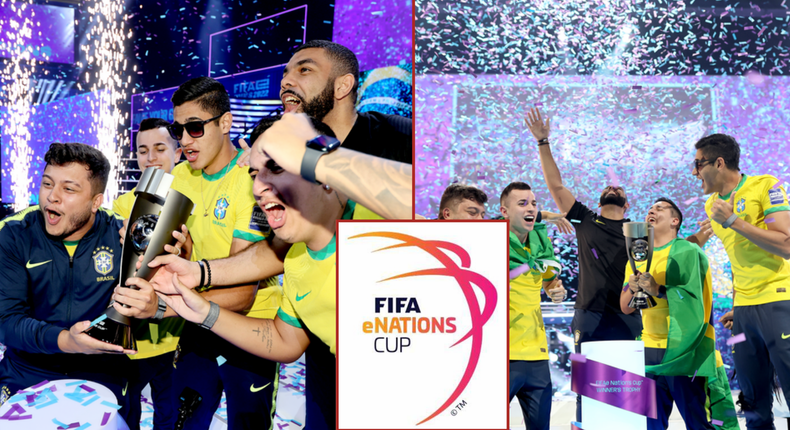 The FIFAe Nations Cup 2022 presented by EA SPORTS, finally reached its conclusion as Brazil was crowned this year's champions.
The South Americans clinched the title after four days of intense competition in front of passionate fans at the Bella Arena.
Brazil also took home the Largest share of the $400,000 prize pool which was awarded to the world's best nation.
The team of Phzin, Crepaldi and Klinger have now followed in the footsteps of inaugural winners France, to become the world's best FIFAe nation.
The three-week long showpiece that was held in Copenhagen, Denmark saw Umut Gültekin being crowned FIFAe World Champion, Riders becoming the FIFAe Club World Champion and Brazil capturing the title of FIFAe Nations Champion.
FIFA
Brazil got the better of major European countries en route to the final, including Spain, Italy, and previous FIFAe Nations Champions France.
The FIFAe Finals 2022 have come to a close following the conclusion of the FIFAe World Cup 2022 presented by EA SPORTS, the FIFAe Club World Cup 2022 presented by EA SPORTS as well as the FIFAe Nations Cup 2022 also presented by EA SPORTS this July.
FIFA
The brand new season of the FIFA eSports competition is slated to resume later this year with the best players, clubs, and nations competing once again for ultimate fame and glory over multiple months.
Pulse Sports Nigeria promises to keep you up to date with the latest information following subsequent news and reports.
Recommended articles
'Apart from senior players, no one is guaranteed a place in Ghana squad' – Andre Ayew
10 Best Sports Documentaries to watch on Netflix in 2022
Richarlison: Brazil star says Ghana has a good team despite heavy defeat
Beyonce vs Ronaldo, who is more popular? – Social media involved in heated debate
Revealed: Top 10 Richest Sportswear brands in the World
Chelsea star Aubameyang teams up with Kim Kardashian in Milan [Photos]
Kevin-Prince Boateng 'adopts' wife's surname on his social media pages
'Tuchel In, Southgate Out!' Reactions as England fans want ex-Chelsea manager ahead of World Cup
Andre Ayew: My only target is to win AFCON or World Cup with Ghana