Dear South Africa FA, your antics are archaic and downright shameless
The South Africa FA should be ashamed to be relying on the words of a known attention-seeker like Ace Ncobo, a man SAFA themselves described in 2018 as a "clown" and "liar"…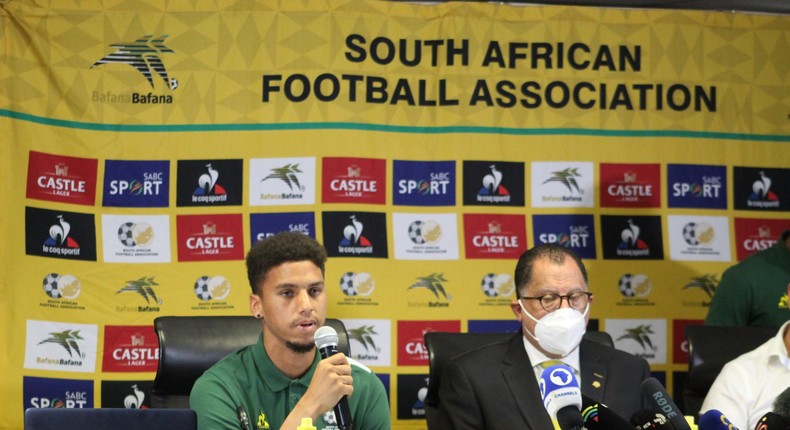 This is not a friendly letter and I think I should make that known to you before I even progress. You, the South African Football Association (SAFA), have behaved in ways that an amateur FA wouldn't even stoop that low.
Last Sunday's game between Ghana and Bafana Bafana was always going to spark controversy, considering the manner in which the penalty that led to the winning goal came. Personally, I have said on countless platforms that the penalty was "soft" and on another day it would likely have been waived off by the referee.
But this is football and controversial calls are part of the game. Sometimes they go your way, other times they don't. When the latter happens, it doesn't mean you should go ballistic and try to smear your opponent with baseless accusations.
The right thing to do, if you had any qualms, would have been to send your petition to FIFA and allow them to do their job by determining if indeed the match was "fixed" or "manipulated", as you've so far sold to the South African public.
But what have you done? You've behaved like sore losers, going from organising bitter press conferences to shifting blame on everyone else but yourselves. From your media to your players to every South African, you've sold the false narrative that you were cheated and maltreated when you arrived in Ghana.
You started making frivolous excuses from the onset. From non-existent flight issues to petty ball boys; all these were said. Oh my God, your coach didn't even know that a 1-0 win for Ghana would see the Black Stars top Group G. That is incompetence, guys.
Even worse, you gave your platform to players – who on the matchday failed to rise to the occasion – to shift the blame from their bad performance to other factors. These players need to take a critical look at themselves, really.
Rushine De Reuck said the game felt "rehearsed" because of how the ball boys went about their duties; midfielder Teboho Mokoena also claimed he found it amusing that the Black Stars were too "vocal" and "physical" on the pitch. Even goalkeeper Ronwen Williams had a problem with the referee explaining to him that time-wasting was a bookable offense before the match began. What is all this?
Need I remind you that South Africa had just two shots on target all game and until the last 10 to 15 minutes were mere passengers in the game? And after this, do you still wonder why your national team is not elite? Instead of telling the players to their faces that they were not courageous enough to go toe to toe with the Black Stars, you allowed them to get away with a bad performance and gave them the impression that they played like prime Brazil and lost. And this is a team that had just two feeble shots on target!
In all these, no one has surprised me more than SAFA President Danny Jordaan. You, Jordaan, had the audacity to veer off a football matter and drag President Akufo-Addo into your mess. For a man of great repute across the continent, such crass behaviour is beneath you.
The most embarrassing of all is SAFA's reliance on the words (I don't see what he did on TV as an anylysis, let alone a credible one) of Ace Ncobo. As an ex-referee, Ncobo has clearly shown that he has no empathy. The way he bastardised Ndiaye Maguette, the official who oversaw the game between Ghana and South Africa, was completely unacceptable.
He basically "killed" the young referee's career and hanged him out to dry with baseless references, as if referees are not allowed to make genuine mistakes. According to Ncobo, in the first half alone, 90.9% of the referee's decisions were against Bafana Bafana.
This, he said, constitutes "a clear case of a match official unlawfully influencing and/or manipulating the course and/or the outcome of the match." How are you, SAFA, believing such an obvious lie? The man said 90.9% of the decisions! Were we watching the same game?
This is a guy who is known to be an attention seeker and it's pathetic that you've allowed him to use the Association for his antics. Come to think of it, is Ncobo a man who deserves to be trusted?
Is it not this same Ncobo who was forced to step down as General Manager of the Premier Soccer League (PSL) in 2009 after failing a polygraph test regarding allegations of corruption and match-fixing? And you trust the words of such a man?
This same Ncobo was labelled as a "clown" and "liar" by SAFA in 2018. This is what the then SAFA CEO, Dennis Mumble, said about Ncobo:
"Why are you guys giving this guy so much airtime? He is a clown and cannot be taken seriously. He has made countless allegations against SAFA over the past few months, but he is yet to prove anything."
At this point, I don't know if I should even continue. Clearly, Ncobo is a man who loves the spotlight and it's just sad that a whole national association like SAFA is basing its allegations on the words of this same "attention seeker".
It takes years to build relationships but just one thoughtless moment to send it all back to dust. SAFA and the Ghana Football Association (GFA) have enjoyed very fruitful relations in the past but your archaic antics are ruining things.
You've seen how strong-worded the GFA's response was? Yes, when you attack people, they need to defend themselves. Personally, I've received a lot of vitriol from some South Africans on Twitter just for sharing my views on the match.
The impression I get is that you're conditioning your countrymen to think they have a case, when what you should be doing is telling them that your chances of getting a replay are next to negligent.
FIFA has never ordered a replay because of "mistakes" made by referees and this will not be the first time. Diego Maradona's 'Hand of God' against England didn't lead to a replay, neither did Thierry Henry's handball that saw France beat Ireland in the 2010 World Cup play-offs.
The only thing that can make FIFA order a replay is if you can substantiate your allegations of match-fixing and match manipulation.
Let your people know that refereeing mistakes don't lead to replays, so that they can prepare for what is coming. I know it's hard to accept being kicked out of the AFCON and World Cup qualification by the same country.
We, Ghanaians, are sorry for that, but this is football and we're simply better than you. That's not on us at all. Our current team may not be as good as it used to be, but we're still far better than Bafana Bafana and that is very clear.
Man up and accept defeat. The penalty that sent you packing was definitely "soft" but referees have made more controversial calls in bigger games and such disgraceful antics were never deployed by the losing teams.
You have the right to take matters to FIFA, but just shut up and allow them to work, rather than passing pre-judgement. Honestly, you're better than these archaic and shameless antics and it's not too late to get back on track.
I know I said at the beginning that this was not a friendly letter, but I still feel obligated to pass this advice. You have a young team and a great coach, and with patience, this team could become world-beaters in a few years. Focus on the rebuilding that is going on under Hugo Broos, at least that will bring something positive than this wild goose chase.
JOIN OUR PULSE COMMUNITY!
Recommended articles
Barcelona crash out of Champions League as Benfica, Lille and Salzburg reach last 16
Spurs' clash with Rennes postponed after Covid outbreak
Barcelona to 'start from scratch' after Champions League exit
Snow pushes Atalanta v Villarreal to Thursday evening
Man Utd's youngsters held by Young Boys
Gomes strike helps Lille to 'history' against Wolfsburg
Benfica beat Dynamo Kiev to knock out Barca
Lyon docked point for trouble in abandoned Marseille game
Shalulile scores twice as Sundowns survive scare to extend lead